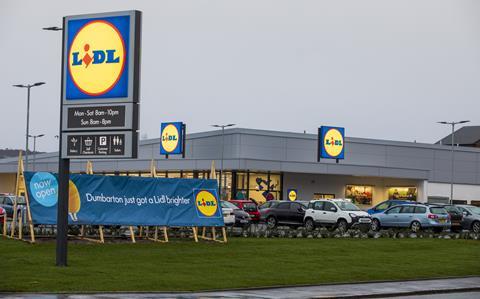 Lidl has opened its 800th store in Britain.
The discounter reaches the milestone with four openings today – in Cambridge, London, Boston and Dumbarton.
Lidl has a target of 1,000 stores by the end of 2023 and has committed to investing £1.3bn in the expansion over 2021 and 2022. Rival Aldi is also pursuing an ambitious expansion target, of 1,200 UK stores by the end of 2025. Its estate currently stands at around 870.
Lidl said it had opened 50 stores in the last 12 months, creating 2,500 jobs. Sixteen had opened in January and February this year.
Six more will open next week, creating another 400 jobs, according to the supermarket.
"I'm proud of our fantastic teams, from our colleagues working on the shop floor to our colleagues in the warehouse and across our offices, who have driven our expansion efforts around the country," said Lidl GB CEO Christian Härtnagel.
"We're looking forward to opening our doors to even more communities this year and into this new decade where we see so much potential for further growth."