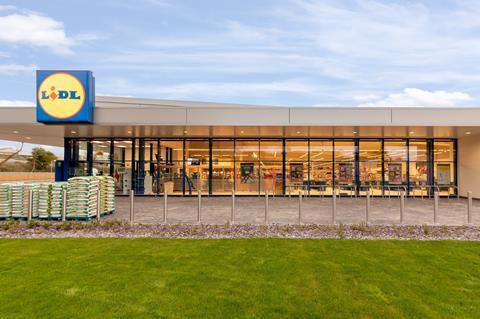 Lidl is scaling back its store opening programme to focus investment on growing warehouse capacity instead, The Grocer can reveal.
The discounter has opened about 50 stores a year for several years, and managed 54 in 2022, in pursuit of its target of having 1,100 by the end of 2025 – up from about 950 currently.
However, it now intends to open only 25 this year.
"In 2023, we are opening 25 stores, which equates to one a fortnight," a Lidl GB spokeswoman told The Grocer.
"Whilst this is a slowing on store openings, we are focusing on investing heavily in our warehouse capacity: opening Luton, completing extension works on our Bridgend and Belvedere sites, and looking for a new site for the south."
One property source said: "I suspect they will only convert what they have exchanged on. I don't think they'll take many new deals forward for the foreseeable future."
The move has led to redundancies, though Lidl has not confirmed how many. "We are currently looking at making a small number of changes within our central services team, including the creation of new strategic roles," added the spokeswoman.
"We are supporting the colleagues impacted by these changes and offering alternative roles, where appropriate."
It's a significant change of tack for the grocer, whose thin margins and profits have seen it so far largely reliant on estate expansion for sales growth. In its latest full financial year, to 28 February 2022, revenues increased 1.5% to £7.8bn, while its estate grew by 6.1% to 918 stores, with 53 new ones opened.
Speaking as the results were announced in November, Lidl GB CEO Ryan McDonnell told The Grocer "you're still talking about a business model that's running lean and mean", with pre-tax profits at £41.1m.
The slowdown comes as the cost of living crisis drives shoppers from traditional supermarkets to both Lidl and Aldi. In January alone, nearly £11m in spend switched from M&S, Waitrose and Sainsbury's to Lidl [Kantar 4 w/e 22 January 2022].
And new NielsenIQ data out this week shows Lidl overtook Morrisons in market share, at 8.9% versus 8.3% in the four weeks to 28 January.
McDonnell also acknowledged in November that Lidl stores had suffered sporadic localised availability issues throughout the summer, which he put down to frayed supply chains. "This year has been difficult," he said. "It's well publicised and documented that supply chains have been frayed, but nothing fundamental for us. Certainly, localised issues from time to time throughout the summer."
It came after Lidl twice tweeted in September that it was "experiencing some issues in our distribution centres", in reply to separate complaints about empty shelves in two stores.
The Luton warehouse is set to be Lidl's largest globally when it opens later this year, employing over 1,200 staff.
Aldi is also pursuing a store number target, of 1,200 by the end of 2025, up from about 990 currently.
The Grocer has reported on the difficulties for both discounters in meeting their targets, including regular objections and legal challenges from rival supermarkets to new store plans. In December 2022, 40 proposed new Aldi stores across the country were being held up by such competitor objections.
Lidl's new store plans have been subject to at least 87 competitor objections, eight pre-action protocols and four judicial reviews raised by competitors since 2020, the majority from Tesco.
Speaking to The Grocer in September, Aldi UK & Ireland CEO Giles Hurley cited planning permission delays as among the challenges that would cause the supermarket to miss a historic target of 1,000 stores by 2022. Aldi now expects to hit that milestone this spring instead.