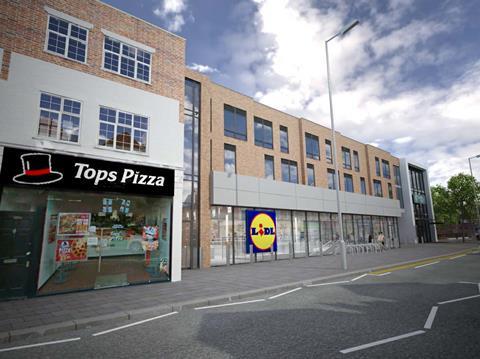 Lidl is taking on "established supermarket convenience" with new store formats and ambitious growth targets in London, the discounter has said.
The revelation came as the retailer opened its 100th London store, in Beckton, and announced plans for 30 more in the capital by the end of 2025.
Lidl said the strategy involved adapting store sizes and formats and being increasingly flexible on sites, including taking mixed-use space to support the creation of homes and offices. A new store under construction in Richmond would house Deer Park primary school above it.
Lidl said it was "taking on the established supermarket convenience offering" by maintaining the low prices of its store nationwide, irrespective of size. It would "combat the convenience effect of higher prices in the city", the supermarket added.
"We're embracing the wide range of locations that London has to offer to help meet customer demand," said Lidl GB chief development officer Ingo Fischer.
"With plans in place for more stores across the capital we look forward to welcoming many more customers through our doors whilst continuing to identify and secure new sites that do not currently benefit from a discount offering."
Lidl GB CEO Christian Härtnagel said: "Our 100th store opening today means that more Londoners than ever can shop for high quality food at Lidl prices. We are committed to never being beaten on price and pride ourselves in offering our customers the same prices for their groceries up and down the country, no matter where their local store is."
The Grocer first revealed Lidl was setting its sights on convenience in April last year, as it cut its minimum central London store size from 10,000 sq ft to 7,000 sq ft, paving the way for smaller sites.
Aldi is also targeting convenience, with its smaller format 'Aldi Local' stores which started appearing in London in March last year. However, Lidl's ambition of 130 London stores takes it beyond Aldi's target, set last September, of 100 stores inside the M25 by 2025.
Lidl said the 30 new stores would create around 1,400 jobs.
It was part of a five-year, £500m investment in the capital, announced last year, which included the ongoing construction of its new head office in Tolworth.