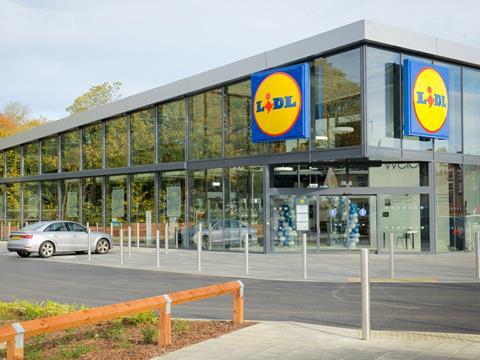 Müller is set to take on the lion's share of Lidl's milk supply, inching out Arla in a three-year deal with the retailer.

Effective from 1 June 2018, the deal would see Müller supply 90% of Lidl's liquid milk and butter products in the UK, The Grocer understands.

Graham's the Family Dairy maintains its supply agreement for Scotland, which is not included in the deal, and Cornwall-based Trewithen will continue to supply some Lidl stores in the south west of England. However, Arla is set to lose the 30% share of Lidl's supply it currently holds.

Müller currently supplies around 60% of Lidl's liquid milk, according to research undertaken by The Grocer and Ian Potter Associates in January. A Lidl spokesman said the three-year supply contract with the dairy giant represented a move towards partnership over traditional supplier relationships.

"Our ambition as a business is to put sustainability firmly at the heart of everything we do, and by supporting growth in the British dairy farming sector, we're taking another crucial step in fulfilling that goal," said Lidl UK commercial director Ryan McDonnell.

Müller Milk & Ingredients MD Andrew McInnes hailed the deal as beneficial for the entire dairy supply chain with potential to drive innovation throughout the milk and butter categories.

The deal is set to include a new option for Müller Direct suppliers, allowing them to commit a portion of their output to the Lidl supply at rates higher than Müller's current farmgate price per litre.

"We are delighted that Müller Direct farmers will benefit from this innovative partnership. Locking a portion of their milk supply at a fixed price will significantly lower exposure to milk price volatility and we are confident that this move will be well received," added McInnes.

NFU dairy board chairman Michael Oakes welcomed the announcement, calling on Muller to release further details of the scheme.
"On the face of it this looks like a substantial announcement by Lidl and Muller as it's the first time a milk buyer and retailer have brought in a long term fixed price option," said Oakes.
"The NFU has been urging milk buyers and their customers to look at ways of helping farmers manage milk price volatility, as not many farmers want to ride the extreme rollercoaster that we have been on in recent years. More price stability is good for farmers, milk buyers and ultimately consumers."