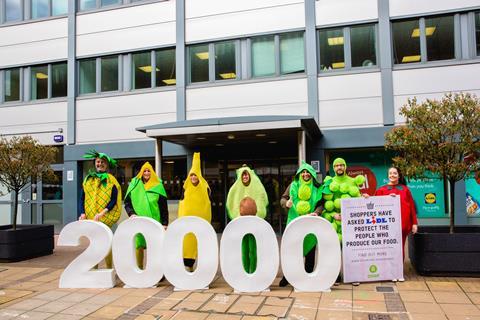 Oxfam is heaping pressure on Lidl to do more to protect workers in its global supply chains.

Campaigners dressed as giant fruit & veg visited the discounter's Wimbledon headquarters to deliver a letter which the development charity says 20,000 people have signed.

The petition is part of Oxfam's Behind the Barcodes campaign, which is pushing Tesco, Sainsbury's, Asda, Morrisons, Aldi and Lidl to better safeguard human rights in the supply chain.

Since 2018, the campaign has included an annual ranking of the six based on their published policies. In the latest, last summer, Lidl came last, dropping two places behind Morrisons and Aldi since 2018. Days later Lidl announced it would carry out a human rights impact assessment in the year ahead to better understand supply chain conditions.

Yesterday's action follows a similar protest by Oxfam in October, when it claimed to have collected 10,000 signatures.

"When it comes to protecting the farmers and workers who supply the food we eat, Lidl is firmly at the bottom of our Behind the Barcodes scorecard," said Oxfam ethical trade manager Rachel Wilshaw.

"Oxfam and our supporters have been targeting Lidl since last October to push the company to take action, with over 20,000 people signing our petition.

"We acknowledge the concerted efforts that Lidl has made since then. But, until we see company-wide public commitments, we will continue campaigning so that we can say, with confidence, that Lidl is taking the issue of worker exploitation seriously."

Lidl repeated a statement issued when it announced its impact assessment, which included: "We operate with a fundamental respect for the rights of the people we interact with, whether they be our own direct employees, contract workers or people employed throughout our supply chains, and are firmly opposed to all forms of labour exploitation.

"We are driving improvements in labour standards across our supply chain and improving transparency around working conditions."

The business had been engaging with Oxfam at the highest level over its plans.