From tackling the piles of plastic swimming in our oceans, to curing shoppers' bad backs and allowing us to sip pinot grigio anytime, anywhere, innovations in packaging over the past 12 months have pushed the boundaries of design, cut costs and helped save the planet. Not to mention their huge impact on the way we sell, shop and eat. Here's 10 of the best
1: Unusual fish food. The six-pack rings suitable
for the sea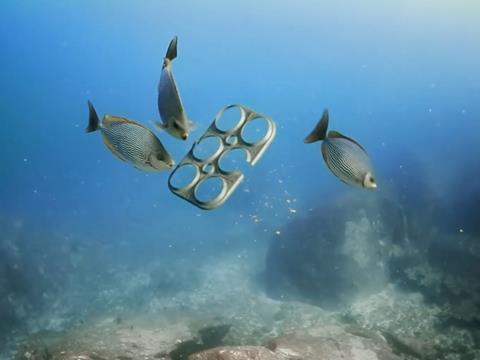 Plastic is destroying the ocean. "We dump thousands of tonnes of it, every year into the sea and it has catastrophic effects," said David Attenborough earlier this year, discussing the upcoming Planet Earth II TV series.
More than 100 million tonnes of plastic are produced every year and 10 million tonnes end up in the sea, according to Greenpeace, and at the current rate it's thought there will be more pieces of plastic in the world's oceans than fish in just three decades.
Craft beer maker Saltwater Brewery, based in Florida, has come up with one way to tackle this. Using edible wheat and barley (byproducts from the brewing process) they've created six-pack rings that can be eaten by marine wildlife.
It says they are the "first 100% biodegradable, compostable and edible packaging to be implemented in the beer industry" and perfect for its target demographic of "surfers, fishermen and people who love the sea". The US drinks a lot of beer - 6.3 billion gallons a year - 50% of which is sold in cans, which means a lot of plastic six-pack rings eaten by fish, birds, turtles and more. So while Saltwater is starting small, it says, if the beer industry embraced the concept, the price of creating this unconventional fish food would be competitive with traditional (and destructive) plastic rings.
---
2: A clever fix for coffee cup waste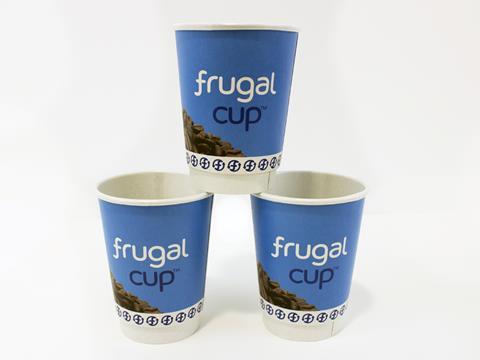 There is only one thing more common on UK high streets than coffee shops, and that's discarded coffee cups. Some 2.5 billion are thrown away every year, or seven million every day, or 5,000 a minute. And only one in 400 of these cups is recycled.
Part of the problem lies in the way coffee cups are made - typically they are produced with virgin paper from mature trees then a thin layer of plastic film is bonded to the paper while it is flat and waterproofing chemical agents are also added. The plastic film inside the cup is not only bonded tightly to the paper but is also trapped in the seam, making them difficult to recycle.
Now British company Fruglapac claims to have developed the first "scalable" solution to the problem by producing a disposable coffee cup that can be processed by any UK paper recycling facility. From the outside it looks like any other troublesome coffee cup chucked away by millions of people every day, but Frugal Cup is made by making the paper into a cup first, without adding chemicals to the recycled paper, and then applying a thin plastic liner to the inside. The plastic liner is then lightly bonded onto the paper cup glued in place so lightly that it easily separates from the paper in the recycling process. This means Frugal Cups can be chucked in any recycling bin and recycled by any paper mill. And the paper can be recycled and reused up to 7 times.
---
3: Most Wanted pours wine into pouches for
hard-to-spill RTD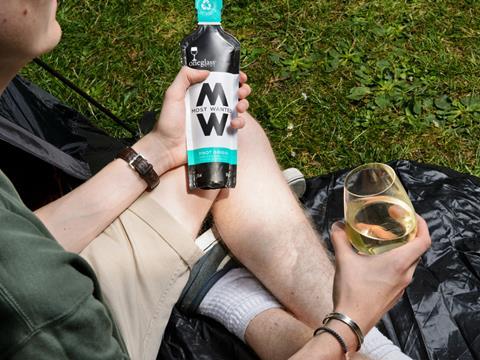 It's fair to say vast numbers of UK adults enjoy a drink or two. And the rising availability (and popularity) of ready to drink single serve products indicates they want their boozy fix anywhere, anytime. As well as distillers and mixer makers, it also presents opportunities for the world of wine to make their product suitable for drinking on the go. So far that has means cheeky 187ml PET bottles or plastic covered PET glasses of wine, like the pioneering Froglet, for people to peel back a foil lid and slurp at impromptu picnics, pop concerts or on the train.
The latest additions aimed at easing the nerves of stressed out commuters are these 187ml flat pouches from Most Wanted which slip safely and subtly into any laptop bag. A year in development, they come in two crowd pleasing grape varieties (Sicilian Pinot Grigio and Mendoza Malbec). A spokeswoman says the "lightweight pouches are the perfect companion for any occasion, whether you're heading to a picnic, off to a festival or just fancy a sneaky tipple on a long train journey. The pouches are easy to open and, most importantly, will not weigh you down, smash or spill over your bag like a standard bottle."
---
4: Fuss-free freshly baked goods with Lock-Well trays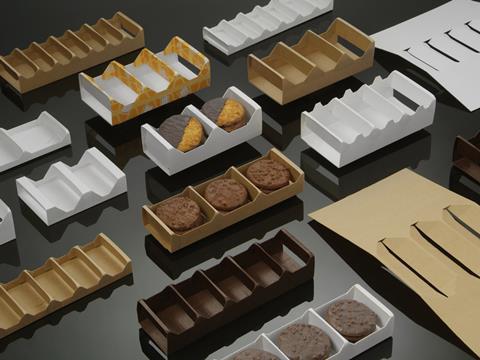 Everyone loves warm cookies - which might be the best thing about these display trays from Lock-Well. They're made from a flat die-cut sheet of ultra lightweight corrugated paper (which makes the trays super-light but also super-stable), folded into a ready-to-use tray, with or without a variable number of compartments to show off biscuits, sweets, chocolates and more. They're 100% recyclable and far more eco-friendly than a typical plastic tray. They're also versatile in terms of shape and size and suitable for any number of different finishes. But where it gets really clever is that a PET silicone coating applied to the display tray means it can be slid into an oven and used as a baking tray (up to 220C) so any bakery or supermarket counter can offer warmed or freshly baked goods with a minimum of fuss.
---
5: Tanqueray's Art Deco cage holds fruit
after bottle used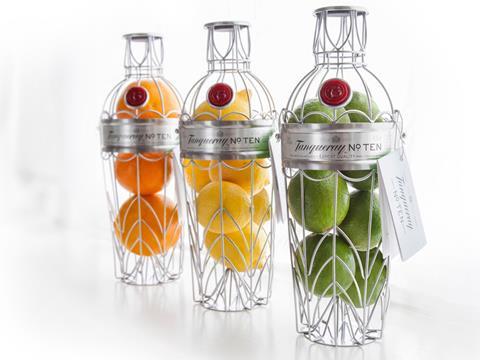 Almost a century old, yet effortlessly contemporary to this day, the Art Deco movement of 1920s Paris inspired the original bottle for Tanqueray Number 10, as well as this equally classy limited edition 'cage'.
Created to make the bottle a gift pack last Christmas, the cage was designed with more than arty aesthetics in mind. It also doubles up as an upright fruit bowl for essential accompaniments like lemons and limes once the contents of the bottle has been mixed into martinis.
According to Diageo, "consumers continue to show willingness to pay more for something special" and this "intricately designed" bottle cage was crafted with the "upmost care and craftsmanship" to reflect Tanqueray's "very own super-premium credentials".
Designed by London-based design agency ButterflyCannon, which says consumers found the cage "irresistible" and showed off the original bottle's "dazzling glassware", the cage was manufactured by Virojanglor Sarl, a French family business founded in 1963 that started out making traditional tin boxes before becoming a highly specialised prestige packaging brand. Today, it is run by Jean-David Curiel and brought to life by an "enthusiastic young team who are passionate about continuing to take on the challenges of tomorrow's packaging."
---
6: A wheely clever way to shift big boxes
and stop bad backs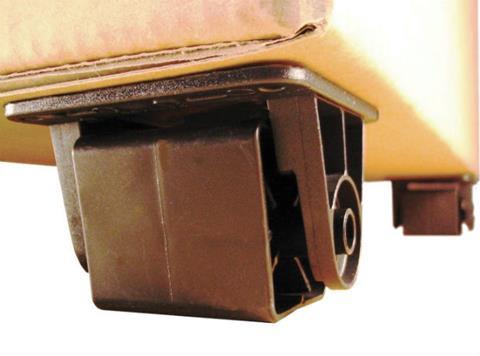 These ingenious little Trundler feet promise what health & safety officers urging everyone to lift with their legs have failed to do for years - deliver a solution to the scourge of the bad back. Easily attaching to the bottom of a box using high-tack self-adhesive pads or a plastic clip, they make boxes easy to manoeuvre around a warehouse or shop floor. Trundler opens up encouraging impulse buys by shoppers thanks to the newfound portability afforded to outsize boxes. The original concept was developed following a request from bed and mattress retailer Silentnight. Using Trundler, shoppers were able to wheel their purchase out of the store instead of having to rely on home delivery. This cut the cost to the consumer, reduced road miles, and ultimately improved sales.
---
7: Polystyrene boxes get fancy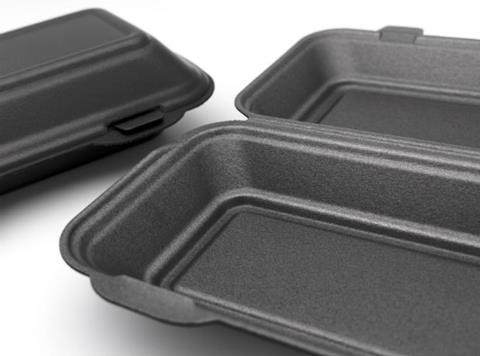 When it comes to food to go in the UK nowadays, fried chicken is more likely to be karaage than Kentucky. To reflect the trend for premium fast food, Linpac has released five expanded polystyrene (EPS) boxes in black to deliver a "distinctive, more exclusive look to packaging for the foodservice sector".
Linpac sales director Mark Durston says the "huge trend for upmarket street food has put dining on the go in the same arena as dining out. Street food caterers can serve up anything from tantalising Vietnamese noodles to flavoursome Mexican tortillas and consumers are enjoying this new dining experience. We have rejuvenated some of our EPS solutions that tick all the boxes in terms of functionality, sustainability and performance and offer a novel, standout pack that will enable them to tier their food offering and present food to a high standard."
But whatever colour it is, EPS packaging is controversial. New York has banned it and last year a group of chefs petitioned London mayor Sadiq Khan to do likewise. Durston insists EPS is 100% recyclable, and the problem lies with consumers not putting the packaging in the right bin. He says EPS has "extremely strong sustainability credentials and excels in terms of functionality and performance".
---
8: The invention that shrinks costs by removing wasted air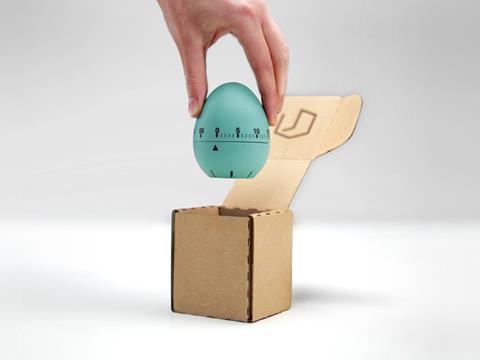 Size matters. Especially when it comes to your postage bill.
Delivery charges for packages are often based on the 'dimensional weight' of a product, calculated by the weight of the product with a formula based on the dimensions of the product. The larger of the two numbers is seen as the 'true weight' and is used to calculate shipping costs.
So anything that can reduce the amount of wasted 'air' sitting inside a package is a bonus - which is where the Slimbox machine comes in. Aimed at SMEs, it promises to create a perfectly sized package for whatever is being sent, cutting down on postage costs and packaging waste at the same time.
Using a free app on a smartphone to wirelessly connect to the machine, users can measure the product being sent and enter the dimensions into the machine. Then they slide a sheet of cardboard inside before the laser cutting process begins and a bespoke box appears.
The Slimbox can also cut out holders to prevent products (such as wine bottles) from shifting inside the box, or cut up the remaining cardboard edges to create extra filling material to protect fragile goods from damage.
And for heavier items that require 'double-bagging', a single tap on the app cuts another box for the original to perfectly slide into.
"With Slimbox we drastically improve the efficiency in sending packages while remaining eco-friendly," says Fit Things CEO Filip Roose.
---
9: A 'waterless' way to bloom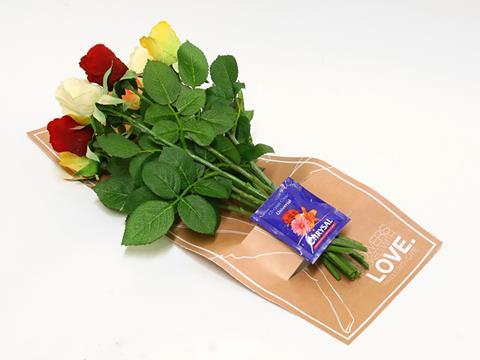 Walk into any supermarket and often the first thing you see will be a lot of flowers artfully arranged in dozens of buckets of water. But India-based Uflex says its Waterless Internet Flower Packaging can extend the life of fresh flowers for up to 15 days without water.
A double gold medallist at the Flexible Packaging Awards, one for Extending the Use of Flexible Packaging, one for Technical Innovation, Uflex VP N. Siva Shankaran says the "biggest enemy to fresh cut flowers is condensed humidity, leading to mould. Oxygen is the second biggest enemy, as it catalyses maturation. With Flexfresh, the humidity is not allowed to condense, keeping the product dry, and with less oxygen available, the flowers breath less as well, reducing the humidity and heat generated by respiration."
Because different flowers require different amounts of hydration, Uflex uses PerfoTec software to determine the respiration rate of individual flowers and uses PerfoTec's laser perforation system to create bespoke micro-perforations in the biodegradable film.
Uflex is targeting e-commerce flower companies so they can keep flowers fresher for longer and potentially eliminate "millions of gallons" of water from the supply chain. It says if packaged in Flexfresh, "flowers stay fresh and dry for up to five days without water and are guaranteed to remain fresh in a vase for up to seven days after the consumer receives them."
---
10 Simple & sustainable, the bamboo-plastic
wine rack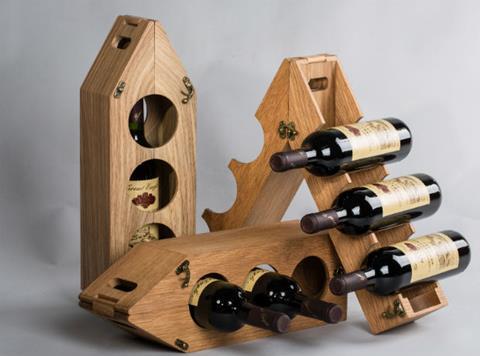 Simple, unique and practical, this wine rack/box was also the winner of the innovation award at Packaging Innovations and Luxury Packaging London 2017. Designed by Dongguan MingFeng Packaging, it uses a new bamboo-plastic composite material which it says is "extremely biodegradable". It also says bamboo is a very eco-friendly wood to use because bamboo stocks are so plentiful because it grows at electric pace. But it's not just better for the planet than cutting down and using typical trees. The simple but stable multifunctional structure, which can be used as a packaging box but also offers alternative display options for a three bottle wine rack, is based on the traditional Chinese mortise and tenon joint structure.
Established in 1989, Dongguan MingFeng started out making small boxes but is now considered one of the top 100 packaging companies in China, specialising in high-grade wooden boxes, hand-wrapped boxes, and printing folding box packaging for cosmetics, jewellery, alcohol and confectionery.
It's currently planning to open a vast new 2.5 million square foot industrial park which will allow it to triple current levels of production and says the new site will be filled with "only the newest state of the art equipment" to enable it to use the "newest ideas in packaging materials to create innovative designs".
Plain packaging: who's next?
1

2

Currently reading

10 packaging innovations of 2017

3