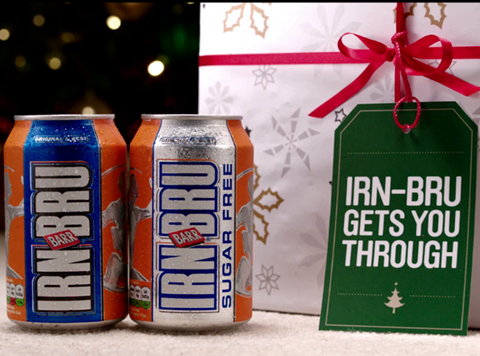 AG Barr has revealed its first new Christmas advert for Irn-Bru in nine years, as part of its successful Gets You Through campaign. The 'Jumper' Christmas advert provides a cheeky alternative to more sentimental festive ads by celebrating the gift of giving with an Irn-Bru twist.
It features a keen granny gifting her grandson a homemade treat, which is a hand-knitted mountain scene Christmas jumper. Unfortunately, the design is eyecatching for all the wrong reasons, but thankfully he has a can of Irn-Bru to get him through what could have been an awkward family moment on Christmas Day.
"Christmas is a time for giving, and this year our granny might have given a little too much," said AG Barr's head of marketing Adrian Troy. "However, it is the thought that counts and, as always, Irn-Bru is on hand to get people through all kinds of difficult situations - even at Christmas."
The advert is available to view on official Irn-Bru social channels and its website, and it is the third advert from the Gets You Through campaign to be released this year, following two adverts over the summer period.