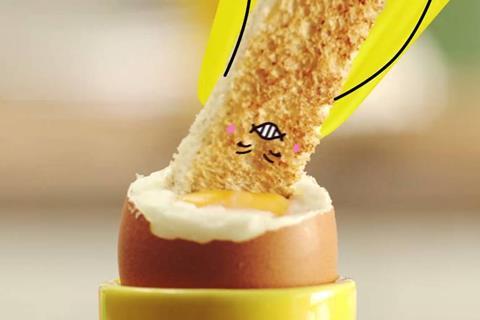 Allied Bakeries is aiming to reverse the sales decline of Kingsmill, its core wrapped bread brand, with a £2m push centred on the 50/50 Vitamin Boost variant.
Reviving the 'Loaf's Good' strapline from last year, the campaign will hit screens on 7 October. It emphasises 50/50 Vitamin Boost as the 'Bread with Super Baked In' due to the "seven vitamins and minerals in every slice".
Two ads will appear on TV and digital featuring an animated superhero made out of bread. One sees the character flying out of a toaster, while the other sees the caped hero diving into a boiled egg.
The name of the drive reflected "a positive outlook on life and enhances the idea that it's the simple pleasures in life that matter", said Allied director of marketing Matthew Cullum.
'Loaf's Good' will run for five weeks. It comes about 13 months after 50/50 Vitamin Boost made its grocery debut, containing vitamin D, iron, niacin, vitamin B6, thiamin, calcium and folic acid.
It had become "the most successful innovation in wrapped bread in the last 12 months", claimed Allied.
However, the Kingsmill brand continues to struggle in grocery. Its value slid by 6.4% to £194.2m in the 52 weeks to 16 March 2019 on volumes down 11.6% [Nielsen].
In June, Allied announced its plan to stop production at the Kingsmill site in Cardiff as a cost-cutting exercise following the loss of the company's Tesco own-label contract.
In the same month, Allied saw its CEO, Jon Jenkins, step down after four years at the helm, to be replaced by commercial director Liam McNamara and operations director Nick Law.