Advertising watchdogs have ruled that adverts for Tesco milk did not misrepresent the retailer's production methods and sustainability standards.
The Advertising Standards Authority (ASA) investigated a Tesco TV ad after members of the public complained image of cows in an open field did not accurately represent how Tesco's milk was produced.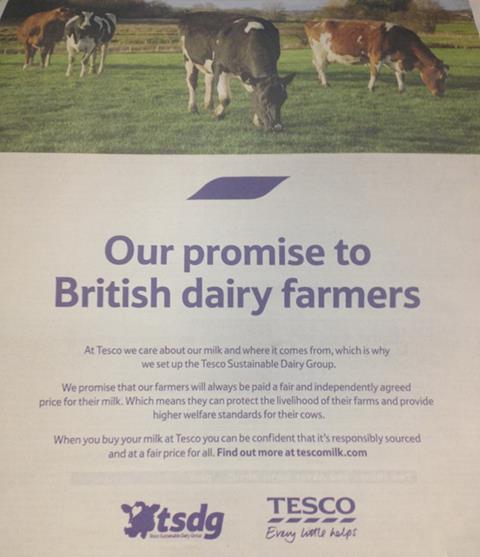 The ASA said that while it appreciated cows' living conditions would vary from location to location, Tesco's practices met Red Tractor standards and that its ads were not in breach of the CAP code. During the investigation Tesco showed it had procedures in place to safeguard the cows' Health and welfare, including its own Livestock Code of Practice for dairy cows.
A further challenge regarding representation of the amount of Tesco milk sourced through the Tesco Sustainable Dairy Group (TSDG) was similarly not upheld.
The complainant, a farmer, said a print ad suggested Tesco sourced all its milk through TSDG, which he said was misleading as he believed only a small proportion was. The ASA ruled Tesco had not made any direct claims about the quantity of milk sourced from TSDG in the ad.