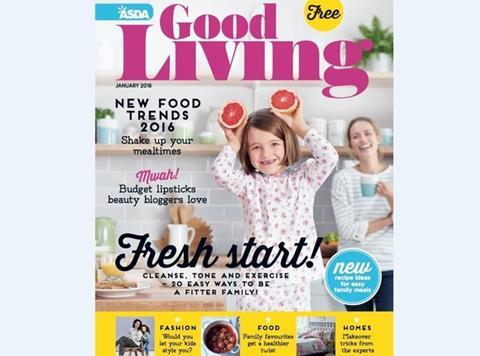 Asda Magazine is relaunching as Good Living with refreshed branding and expanded digital, multi-platform content.
Good Living will launch tomorrow (5 January) to 2.1 million customers spanning print, online, mobile, social media and events.
The free magazine was rebranded after six months of extensive research and consumer insight by new publisher, Hearst Magazines, to better engage customers.
Vlogger and internet personality Anna Saccone Joly is joining the magazine as a monthly columnist. The YouTube star films videos about her daily family life and has two million subscribers across her channels.
"Asda Magazine was already a hugely successful publication, the largest-read women's magazine in the UK, but our desire was to transform it into a multi-platform content hub to reach an even wider audience," said Asda VP marketing and own brand Claire Harrison-Church.
"Our customers are ahead of the curve when it comes to social media and they now expect us to provide them with daily news and highly engaging, helpful content. Good Living perfectly portrays our fun, family-friendly ethos as a brand and gives us the opportunity to talk more widely, and more often, to our customers about the quality of our food, home and clothing ranges, about our events and services in store and about the fantastic colleagues and suppliers we work with."
The editorial team at the magazine has also seen a number of new appointments including former assistant editor at Closer Ally Oliver as editor and Prima web editor Kate Matharu as digital director.
"Good Living has its own look and feel that is linked to the Asda brand but which has a strong tone and design ethos of its own. The tone of voice is fun, relaxed, informed, positive and conversational," said Hearst Made group publishing director Judith Secombe.
"By enhancing our editorial team and creating an exciting freemium proposition packed with information, ideas and entertainment, we hope customers will actively seek out the magazine each month."
Asda Magazine was previously published by Publicis Blueprint.
The relaunch of Asda's magazine comes after Morrisons pulled its own magazine last summer following a review of its marketing strategy. Also last summer, Tesco shelved its monthly staff magazine, The One, and replaced it with a quarterly publication called 't'.