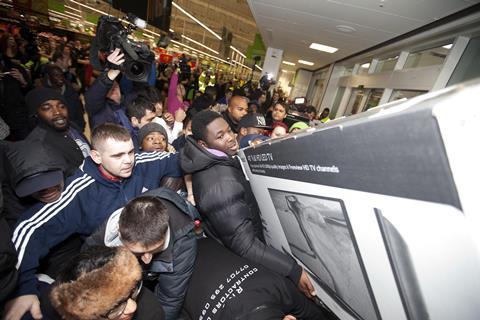 Remember Black Friday? Wembley natives showed no chill once Asda's doors slid open: shoving, screaming and wrestling each other in order to grab discounted plasma TVs. The bonkers scenes, which were replicated up and down the UK, provided the intro to Bargain Fever Britain (ITV, 8pm, 25 August).

The curious thing about this consumer hysteria isn't that the TVs were only reduced by 37%, or that Asda encouraged the madness, despite the fact that people are regularly injured in Black Friday stampedes (one US Walmart employee was trampled to death in 2008).

It's that the people whipped up by the hype had failed to register that nowadays there is always a sale on, everywhere. So in this promotional blizzard, asked the show, what do the companies that have crazy low prices as their USP do when the normally priced guys turn the sales up to 11?

Like Costco, which operates on a profit margin "so small that it never does a sale". Or grey market maestro Approved Food, which shifts past-its-best grocery by the pallet-load online.

Unfortunately, it didn't really provide an answer. We saw Approved Food launch 1p deals on Black Friday, but then we skipped straight to Christmas, when everyone descends into promotional madness, so there weren't any brilliantly inventive strategic moves at work: the cheap guys just got cheaper and Costco just worked harder, especially on the last Saturday before Christmas.

"They call it panic Saturday," said the guy in charge of Costco Turkeys. Of course they do.