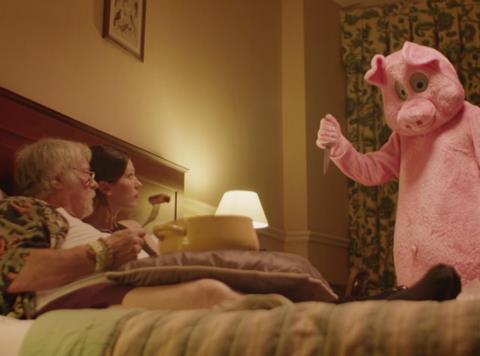 Animal welfare pressure group Farms Not Factories has enlisted the services of Bill Oddie for a "smutty" new ad campaign designed to persuade consumers to shun sausages from "low welfare" and non-assured farms.

The conservationist and TV celebrity appears in three short tongue-in-cheek videos launched this week, where Farms Not Factories places the vice of eating so-called "factory farmed" sausages on a par with drug use, alcoholism and adultery.

Farms Not Factories said the videos, titled Not a Happy Sausage, see Oddie play a "debauched" and "sinister" version of himself with a "spiralling addiction to drink, cocaine, depraved orgies… and cheap, irresponsibly sourced sausages", supplied by a "sausage smuggler" played by actress Margo Stilley and with whom Oddie embarks on an affair.

In a surreal twist, a person dressed as a giant pig then physically terrorises the intoxicated comedy veteran.
The group's director Tracy Worcester said the new campaign was designed to appeal to a wide audience and ensure the viewer did not feel lectured, while also carrying a serious message that consumers "shouldn't be seduced by cheap sausages, as the true costs are borne by pigs, people and the planet".
She added: "These videos are outrageous in order to reach and appeal to a younger audience.
"We want them to join the movement against the corporate takeover of our food by paying a fair price to our farmers who raise animals with good animal husbandry. Two sausages from a factory farm cost the same as one and a half from a happy pig farm."

Farms Not Factories suggests shoppers should boycott pork products that carry either the Red Tractor label or carry no assurance label over animal welfare concerns, and should instead buy products carrying organic, free-range, RSPCA Assured or 'outdoor reared' labelling.