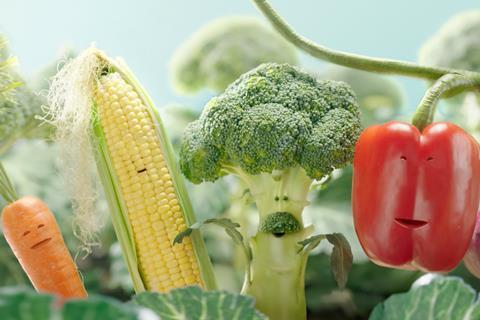 Birds Eye has launched a £6m marketing push in a bid to encourage consumers to "double" the amount of vegetables on their dinner plates.
Described by the supplier as its "biggest" frozen vegetable marketing drive to date, 'Eat in full colour' will be a multi-channel campaign across TV screens, out of home and social media.
It will primarily feature Birds Eye's Steamfresh and Garden Peas ranges and is set to run from today (21 August) until 22 December, with the possibility of it continuing into 2020.
The advertisements will aim to get shoppers to "add more essential nutrients and vibrant colour" to their diets, with Birds Eye promising it "will playfully educate families" about the benefits of eating frozen vegetables.
"For the vast majority of Brits, vegetable consumption is still lagging behind the World Health Organisation's 5 a Day recommendation, at just 1.6 – hardly surprising given that only 1.2% of all food and drink advertising on TV is for vegetable products," said Birds Eye marketing director Steve Challouma.
"Our brand-new campaign will inspire the nation to eat a little more goodness every day through our convenient product solutions and tasty recipe suggestions."
Birds Eye said it hoped this marketing push would "grow the category" and also "double" the consumption of vegetables in the UK.
The frozen vegetable category is currently worth £402.5m, with Birds Eye's lineup making up more than a quarter of it. The brand saw the range's value sales up 6.8% during the past year to £106.1m [Nielsen 52 w/e 13 July 2019].
'Eat in full colour' follows a similar-looking Food Foundation campaign backed by Birds Eye and major retailers, called 'Eat them to defeat them', which hit screens earlier this year. By contrast, instead of featuring 'evil' vegetables, this new marketing push appears to have happier connotations.