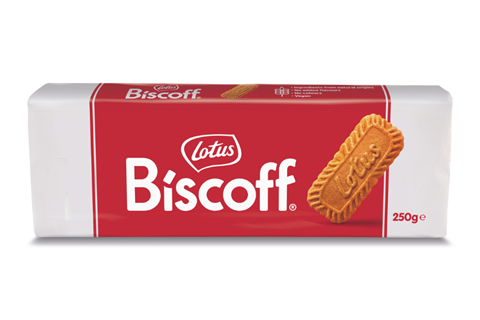 Lotus Biscoff has undergone a brand transformation to more prominently feature the core Biscoff name.
The new packaging design, which will initially roll out across the Lotus Biscoff sweet spreads and biscuits range, would "immediately grab the customer's eye in-store" owner Lotus Bakeries said.
It would feature a greater focus on the Biscoff motif, with the reduced Lotus marque "acting as an endorsement to the core brand", it added.
"This new, modern and bold appearance is an important stride forward for the Biscoff brand," explained Frances Booth, category development & marketing manager at Lotus Bakeries. "Consumers always refer to our 'little red biscuits' as simply Biscoff so for this to be the spotlight on the new packs is a logical step.
"We are very excited to see the reaction from our consumers when the new, sleek rebrand is introduced into retail outlets imminently."
The refresh would be extended to ice cream and confectionery, as well as third party 'Created With Lotus Biscoff' products later in the year, Lotus Bakeries said.
'Created With Lotus Biscoff' has featured collaborations with brands including McDonald's, Krispy Kreme, Costa and Cinnabon in the past.
Products have included a Lotus Biscoff McFlurry, a selection of Krispy Kreme Lotus Biscoff doughnuts, a Biscoff Bon and a Costa Rocky Road.
It comes after Lotus Bakeries UK's snacking arm saw its sales jump by 25% in the first half of 2023.
Sales of the Lotus Biscoff brand grew 20% at constant exchange rates, with sales up across the vast majority of countries and brand categories.