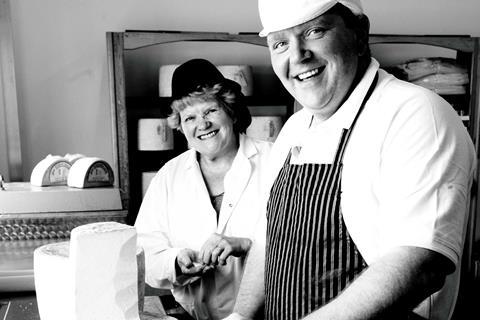 Booths has launched a campaign to support British artisan cheesemakers struggling to survive the coronavirus crisis.
The dairy industry is facing major challenges after foodservice business disappeared practically overnight when the UK went into lockdown to prevent the spread of the outbreak.
Booths, which operates a 28-strong store estate across Lancashire, Yorkshire, Cumbria, Cheshire and Greater Manchester, is encouraging shoppers across the country to buy more artisan cheese to support the industry.
The Booths promotion includes:
More artisan cheese ordered and a Booths-funded offer to save 1/3 on cheeses
Artisan cheeses actively promoted in store and given prominence on PoS
More artisan cheese sliced and pre-packed rather than being served over the counter
Artisan cheesemakers added to click & collect services
A widespread social media campaign to #supportartisancheese launching next week
Stores will compete to sell the most farmhouse artisan cheese
Investigating the possibility of creating an artisan cheese selection box for click & collect
The retailer said it was encouraged to act after it learned of the plight of award-winning Lancashire-based cheesemaker Graham Kirkham, who saw 60% of his markets disappear as foodservice and wholesale markets shut down.
Kirkham has gone from selling two tonnes of cheese a week to just nine whole cheeses last week.
The new Booths campaign aims to support Mrs Kirkham's Lancashire Cheese and the wider artisan British cheese industry during the crisis, with a supermarket-funded promotion part of the initiative.
"Kirkham's Lancashire cheese is part of the DNA of Booths," said Booths chief operating officer Nigel Murray. "The idea that artisan producers like Graham could be at risk is a huge concern.
"Booths is very much a family business and that family extends to our suppliers. Their products are a rich part of what makes Booths a special place to shop, so we can and must do everything we can to support them."
Booths added the #support message was part of a range of measures being rolled out to help communities, suppliers and people affected by Covid-19.
Murray said: "I know Booths customers will want to support these great British cheesemakers and we'll do everything we can to help through a focused campaign promoting the industry and their products. British cheeses are vitally important… they are a special part of our food heritage, from Colston Bassett to Appleby Creamery, these producers need public support right now."
Graham Kirkham added: "Please support us, your small, unique food producers. Otherwise, all those nice treats you've enjoyed won't be here because we won't be around to make them.
Murray said: "It has always proved very difficult to quickly increase the sales of milk as it is a commodity. However, supporting farmhouse cheesemakers is something Booths can get behind and we're here to support them, now more than ever, and we believe we can make a difference."