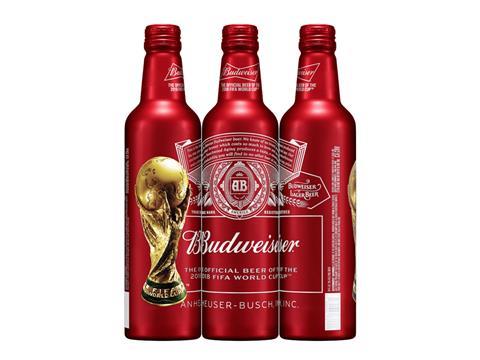 AB InBev is ramping up the production of Budweiser ahead of the World Cup final, having offered to give away millions of free beers if the England team wins.

The brewing giant said beer production had been increased at its UK facilities in anticipation of an English win, which it said was looking increasingly likely. Shoppers have been invited to sign up at freebudforthenation.com from where, if the team do win the cup, they can download a voucher to redeem in stores.

The brand was "getting ready to honour the people who make football the beautiful game we all know and love," said AB InBev Northern Europe president Jason Warner. "We're ready, and our breweries are still brewing beer around the clock in preparation."
However, it is unclear exactly by how much AB InBev has ramped up production. If England do not win, or are knocked out before the final, it is understood the extra beer made will simply be kept as stock.

Budweiser upped its value sales by a whopping £17.5m to £381.7m this year (£418.4m if Bud Light, which has racked up £30.5m in extra sales, is included), boosted significantly by its sports sponsorships [Nielsen 52 w/e 21 April 2018].

As well as the World Cup, it replaced Carlsberg as the official sponsor of the England team and Wembley Stadium in February.

This isn't the first time AB InBev has used sport to spark a massive sampling campaign. When Wales beat Belgium in the 2016 Euro tournament, it offered a free beer to every adult in Wales.