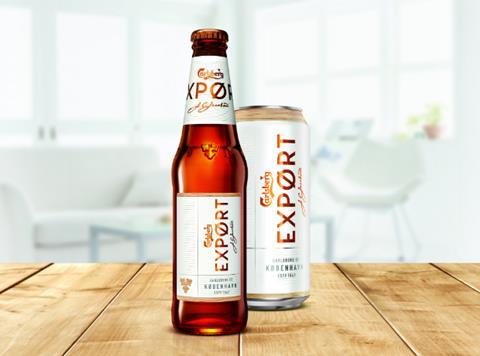 Carlsberg is hoping to put the brakes on a sales plunge with a £15m heritage-based revamp for Export.
With the beleaguered Danish brewer suffering from a £73.6m loss in value [Nielsen 52 w/e 8 October 2016], the overhaul of Export marks the first step in "revitalising" the business's core portfolio. It will roll out from February 2017, featuring packaging influenced by the cross from the Danish flag, with the Danish word for Copenhagen – København – introduced alongside the signature of brand founder Jacob Jacobsen to further underline the beer's roots.
In addition, Carlsberg is set to introduce 330ml and 660ml bottle formats designed for "the full breadth of the off-trade", while the signature white-on-green colouring has been replaced with bronze lettering on a white background.
The brewer, which plans to relaunch the wider Carlsberg portfolio "in the near future", said it was hoping the Export relaunch would have a "halo effect over the whole brand", which was down 35.6% to £133.4m in the past year [Nielsen].
Liam Newton, vice president Carlsberg UK, admitted Carlsberg had "a long way to go" in terms of reversing the value decline, predicting it would be 12 months "before we will start to see this", he told The Grocer, adding with "less and less" consumers drinking alcohol, combined with the thirst for premium brews, the key focus for the business was to grow value.
On the back of standard lager sales "falling sharply", Carlsberg warned the wider industry was facing a potential dip of £500m in sale by 2020.
The £15m relaunch push, kicking off in March next year, will be fronted by Hollywood star Mads Mikkelsen, one of Denmark's biggest movie actors, incorporating media and integrated consumer activity.