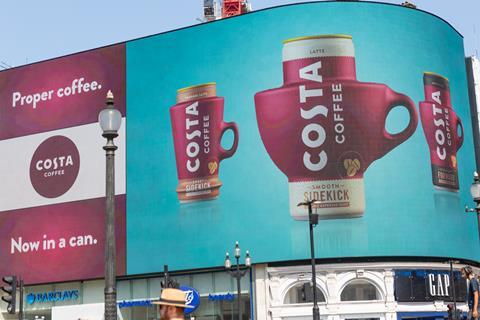 The iconic Coca-Cola sign at Piccadilly Circus has given way to another drinks brand for the first time in its 65-year history.
Costa Coffee today (27 August) took over the electronic display for three days to promote its new RTD range – its first NPD launched under Coke's ownership.
The ad is the first stage of a push that will include digital, PR and sampling activity. On Thursday 29 August, the doors will open at the Costa Coffee Flavour Rooms pop-up at the Truman Brewery in east London.
Coca-Cola first appeared in Piccadilly Circus in 1954, on a neon sign measuring 44 sq ft and featuring nearly a mile of lighting. Operating on a 17-second repeating sequence, it would spell out the phrase 'Have a Coke', which would be joined by 'Delicious' and 'Refreshing' before the Coca-Cola logo appeared in the centre.
In 2017, the ad was upgraded to a curved, ultra-high definition screen with 11,858,400 pixels and 281 trillion colours.
"There's nowhere better for us to celebrate our new relationship with Costa Coffee," said Simon Harrison, VP of commercial development at Coca-Cola European Partners. "We're looking to disrupt and define the ready-to-drink coffee category and continue to provide more choice for coffee lovers to enjoy."
Costa chief growth officer Sarah Barron hailed "an extraordinary and historic moment for us as we take centre stage at this London landmark.
"The bright lights of Piccadilly Circus have long been synonymous with Coca-Cola, and so it feels like the perfect opportunity to commemorate our new partnership."