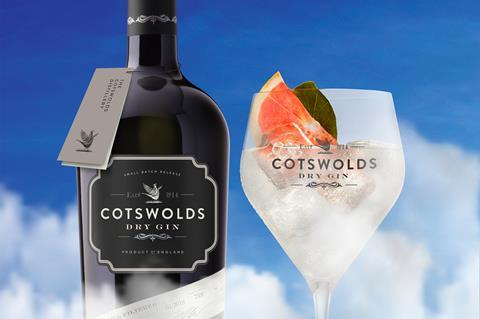 The Cotswolds Distillery is to launch its first ever advertising campaign for its gin, playing up its 'cloudy' credentials.
Ads will roll out at 257 sites across the UK from 1 July advertising that when tonic or a mixer is added to Cotswolds' gin, it creates a "pearlescent cloud" due to the drink's high botanical load.
"Our Cotswolds Dry differs from other gins because of the intensity of its flavour and aroma," said the brand's founder Dan Szor. "We became aware shortly after we started making this gin that the botanical charge that we put into our pot was 10 times greater by weight than what [other distillers] were using."
He added: "But what we have in the cloudiness is something very few other London drys have – a visual cue, so we thought we should emphasise that. It immediately links to our story about fuller flavour and more ingredients."
The push will include a competition asking shoppers to take a picture of their own cloudy G&Ts against the skyline, tag them with #TheCloudyGandT on Facebook or Instagram, with prizes on offer including a distillery visit or a hot air balloon trip in the Cotswolds.
Szor also revealed plans to introduce three high-end whisky SKUs to the brand's portfolio over the coming year: one "high-strength, intense flavour and slightly higher price" peated cask whisky, one blend of multiple sherry casks and multiple woods, and one 100% bourbon cask whisky.
"You will end up with our flagship single malt, which we believe is the most representative of our whisky production, surrounded by a family of four higher-abv, intense cask strength expressions," he said.
The brand was also looking at moving into RTDs, Szor added. "We are considering the possibility of something for the summer of 2020, provided we can deliver the same depth of flavour and intensity of aroma in a G&T as our bottled gin. If we cannot do that then we won't do it."