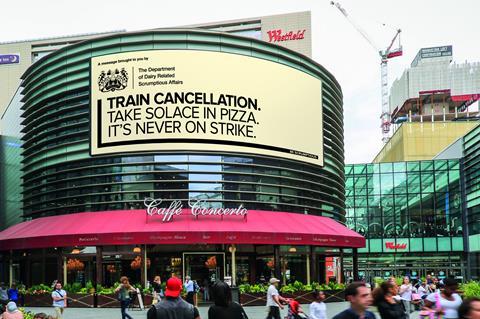 Another round of spoof governmental public service announcements will find their way on to TVs, cinema screens and billboards this week as Dairy UK gears up for the second year of its Department of Dairy Related Scrumptious Affairs campaign.
The trade body, in conjunction with AHDB, is set to roll out a host of billboards, with emotive messages aiming to remind consumers of the nutrional value of dairy. Its £1.2m spend will also see the campaign's ads hit cinema screens for the first time from 11 March.
Running for 10 weeks, the push will target young families with pre-school aged children in a bid to engage time-poor but diet-conscious parents.
Those behind the push have recruited a consumer panel to pit dairy products against their vegan alternatives while wearing brainwave-measuring EEG technology to measure emotional and physiological responses. The results of the experiment are set to be announced via social media.
"We want millennial parents to rekindle their love of dairy so have heavily invested in media that will drive noticeability and engagement," said Dairy UK CEO Judith Bryans. "This year's campaign is set to be bigger and bolder."
Last year's campaign was well received among millennials, with 28% of young parents viewing the campaign – seven percentage points higher than the food and drink category average, said Dairy UK. Influencers recruited by Dairy UK had 1.5 million followers between them, leading to a total social media reach of more than 17 million and 166,000 engagements.
"We know that the humour and design of the initial campaign delivered above industry average cut through, recall and drove attitude change," said Rebecca Miah, head of dairy marketing at the AHDB.
"The next phase builds upon that success and introduces new trends in dairy consumption, communicating via cinema during the peak Easter period, iconic poster sites and social media."