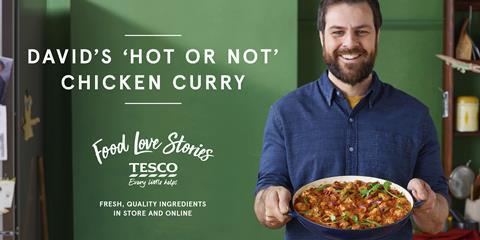 Another new year, another new era for Tesco's advertising machine.
The retailer, ahead of a crucial set of Christmas results to come on Thursday, has launched a new approach to target customers' hearts, with a series of 'Love Stories' about its food.
It all kicks off tonight with that most romantic ad break of all, mid-way though Corrie, Emmerdale and The Undateables, and features the love story behind 'David's hot or not chicken curry', the first of a series of seasonal affairs due this month.
Also featuring are Iain's 'proper' croque monsieur, Henry's 'being good tonight' falafel, and Sunita's 'secret veg' meatballs.
From the evidence of the first one, there is nothing to dislike, unless you happen to already be in the midst of the January blues or a hardcore new year detox.
Charming Geordie bloke Dave (ticks all the boxes for ad agency) puts in a good turn, and it's great to see Tesco proud to show off its products on screen.
But the new campaign also shows just how difficult it is for Tesco and its creative agency BBH, even with an arch marketeer like Dave Lewis at the helm (think Unilever Dove campaign et al), to come up with anything genuinely groundbreaking or new.
The ads, in fact, have strong echoes of the Love Every Mouthful campaign launched by Tesco in 2013, when it last discovered its 'passion for food'. Back then, it was with a series of ads produced by W+K, also featuring food and favourite Tesco recipes at the forefront.
New boss, new agency and three years on Tesco is rediscovering its passion all over again. Yet it's so difficult for supermarkets to capture the imagination of a generation used to fast-forwarding the ads on Sky Plus and who've seen pretty much every approach possible towards luring their hearts.
When Tesco signed up Gavin and Stacey star Ruth Jones and comedian Ben Miller just over 12 months ago to front its brand campaign, there was talk it would re-capture the old magic of its iconic Dotty campaign, starring Prunella Scales. But that has proved impossible, not least because we live in a different era of communication.
Tesco is promising it's not curtains for Ruth and her 'family', they will be back, and it would be a shame to dispense with them just yet as there were signs over Christmas that the much-maligned campaign was warming to the task a bit – although the annoying son appears to have been discarded for good. But it's never going to do a Dotty.
None of this means Tesco is wrong to launch the new campaign. It can only be good to try to talk about its food credentials, and also try to get more people to cook from scratch at home, which the ad is all about.
But, to use Tesco's favourite phrase of the times, this campaign will be a 'little help' in keeping its fortunes on the right trajectory, rather than a big landmark. David's curry, hot or not, is not going to impact on shareholders anywhere near as much as what another Dave will have to say come Thursday.