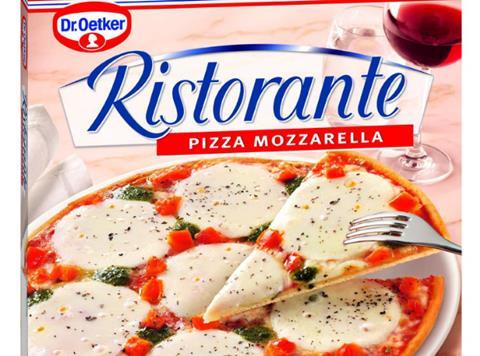 Dr Oetker has been chided by the advertising regulator for implying 90% of UK consumers believed its Ristorante frozen pizza range to be the best-tasting.
The Advertising Standards Authority's ruling followed an objection by 2 Sisters Food Group, maker of rival pizza brand Goodfella's, and concerned online activity promoting Ristorante.
Pizzaristorante.co.uk featured a product image alongside the statement 'Best Pizzeria Taste at home. 9 out of 10 agree'. The same assertion was made on the Ristorante Facebook page alongside a photo of a pizza – and 2 Sisters challenged whether the claim was misleading and could be substantiated.
Dr Oetker retorted that 53,024 of 58,037 (90.81%) respondents to a poll that offered a voucher for a free pizza agreed or strongly agreed with that statement 'Ristorante has the best pizzeria taste of any pizza I have purchased to cook at home' – and it had been made clear to participants the voucher was available whether or not they liked the product.
The brand had also sought advice from the Institute of Promotional Marketing, which agreed the 'Best Pizzeria Taste' claim accurately reflected the survey data and the questions asked.
But the ASA noted respondents had to have first purchased a Ristorante promotional pack, and the survey did not include a list of other home-cooked pizza brands for them to select from. Also, the poll did not ask participants which other pizzas they had tasted and when they last tasted them. It did not therefore include a mechanism to filter out participants who had never tasted, or who had not recently tasted, comparator products.
The ASA ruled that the assertion 'Best Pizzeria Taste at home. 9 out of 10 agree' was likely to mislead because it suggested 90% of a group representative of the general public and in a position to compare Ristorante with its competitors agreed the Dr Oetker product was superior.
The brand was instructed not to re-run the ads in their original form. They were from a campaign that had ended, said a Dr Oetker spokesman. He acknowledged the upheld complaint but added: "We are still pleased that 52,000 out of 58,000 consumers agreed 'Ristorante has the best pizzeria taste of any pizza I have purchased to cook at home'."