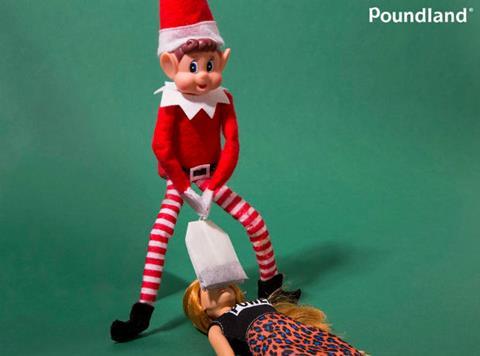 It is hard to imagine that the slap on the wrists dished out to Poundland today by the Advertising Standards Authority over its controversial elf Christmas marketing push will have upset too many people at the discounter's HQ.
In fact, MD Barry Williams and co are as likely to be celebrating what has been a fresh wave of publicity on the back of the campaign, which they will view as a huge success.
The campaign featured the character in a series of sexually suggestive posts on Twitter and Facebook, including one with the elf dangling a teabag between his legs over a female doll wearing a t-shirt with the word 'power', and captioned 'How do you take your tea? One lump or two?'
It was crude and many people were offended, including 84 who were sufficiently miffed to complain to the advertising watchdog. When the images first started appearing in my Twitter feed, my first instinct was that I was being hacked rather than realising this was the work of a reputable high street retailer.
Unsurprisingly, the ASA agreed with the complainants. It called the ads "irresponsible and likely to cause serious or widespread offence". Hence the campaign was in breach of the advertising code and it ruled that the ads must not appear again in their current form. It told Poundland to ensure its advertising was presented with "a sense of responsibility".
Poundland will no doubt have a different view of what the latter part of this judgment means compared to the ASA. The elf has already reappeared on Twitter behind bars in his cell in the dubiously titled 'Wormwood Scrubbers'.
A statement from the naughty elf said: "Britain's the home of saucy postcards, Carry On films and panto, so I'm sad the ASA found my double entendres hard to swallow.
"At least it's only 84 people who had a sense of humour failure compared to the 10s of thousands who got the joke and liked and shared my posts online.
"I'm doing everything I can to get out on good behaviour later this year. Love, Elfie x."
Poundland clearly thinks it is on to a winner with this kind of 'any publicity is good publicity' advertising and with good reason – the campaign cost around £25,000, a pittance in the scheme of how much retailers generally fork out for Christmas marketing. It has proved a hit with customers, spawned countless column inches and helped drive up sales for the 12 weeks to 24 December by 5.6%.
With recent social media activity from Poundland using Harry the Hunk in just his pants to sell cleaning products and posts for Pancake Day calling on people to prove they are #TopTossers, it looks like Poundland and the ASA could be having a few more run-ins over the months to come.
The controversy is reminiscent of the spat the watchdog had with Ryanair in the noughties, when the ASA found the airline in breach of the code seven times in two years, with Ryanair labelling it 'Absolutely Stupid A***holes'.
Ultimately, today's ruling shows that there is very little the ASA can do to stop an advertiser hell bent on courting controversy. It is likely that Poundland will continue to push its luck until either it or its customers get bored with it. That doesn't look like happening any time soon.