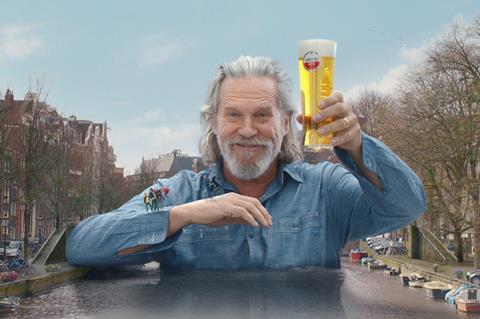 Heineken has enlisted Jeff Bridges to star in its latest push for Dutch lager brand Amstel.
In a new TV spot, the star plays a human bridge "encouraging people to come together and connect over a golden bier". It will debut on Friday 3 May during Gogglebox at 9pm on Channel 4.
Heineken brand director Nic Casby said the brewer "wanted to create an advert that got people talking whilst sharing our brand values and point of view" by "illustrating the power of bridges to bring people together".
"When we thought about the most famous bridge who brings people together, there was only one bridge: Jeff Bridges."
The ad comes as part of a £7m push from May to August, spanning TV, cinema, video on demand and digital channels. It's the second push of this size in two years: Heineken ploughed the same figure into a relaunch for the brand in February 2018 to help claw back lost sales after it spent a year off Tesco's shelves following the retailer's purge of Heineken products in 2017.
However, Amstel launched back into Tesco last year, and saw its sales surge over the summer, boosted by the World Cup and hot weather. At the time of The Grocer's annual Top Products 2018 report in December, its sales were up 6.9% to £28m [Nielsen 52 w/e 8 September 2018].
Heineken said that according to latest Nielsen figures, sales were now growing at 70% year on year [52 w/e 6 April 2019].
Bridges also starred in an advert for rival lager brand Stella Artois earlier this year alongside Sarah Jessica Parker, reprising his role as The Dude from cult comedy The Big Lebowski.