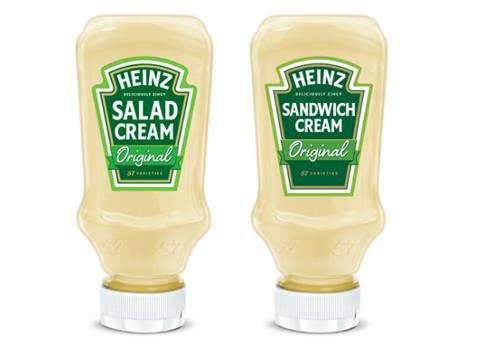 Heinz Salad Cream could be set for a name change later this year to Sandwich Cream to better reflect how the 104-year-old brand is used.
Kraft Heinz is currently working with its design partner Jones Knowles Ritchie on a possible overhaul of Salad Cream, after research suggested the name didn't "fairly represent the product's ingredients or usage occasions" – with only 14% of consumers eating it with salad.
"Viewed by consumers as an alternative to mayonnaise, popular pairings for the condiment include tuna, ham and cheese sandwiches" according to Kraft Heinz, which is considering 'Sandwich Cream' among possible new names to appeal to younger shoppers.
"As a market-leading business, Kraft Heinz continues to audit its portfolio in order to meet the needs of consumers," the supplier said. "There are consumers now who haven't grown up with the brand in the household and just don't know about the iconic zingy flavour, or what to eat it with."
However, a name change will not likely take place until September at the earliest, and Salad Cream will continue to be fully available in the meantime.
Launched in 1914, Salad Cream was the UK's fifth biggest-selling table sauce last year, with value sales of £28.8m – though that was 5.4% decline on 2016 [Nielsen 52 w/e 9 September 2017].
This is not the first time Salad Cream has faced a momentous change. In October 1999, Heinz sparked a furore among shoppers by announcing it might axe the sauce due to falling sales and the rising popularity of other salad dressings. A few months later, the brand was relaunched in new-look packs with considerably increased price points.