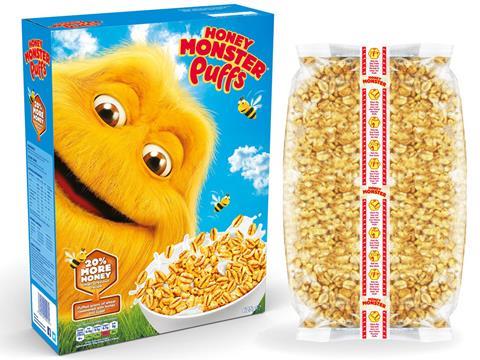 Halo Foods is rolling out resealable packs of Honey Monster Puffs - a move it claims is a first for boxed breakfast cereals.

Rolling out from next week, the bag of cereal in the brand's 625g family packs will now have a strip of tape to reseal it. Halo will extend the bags to the rest of the range in the coming months, if they are "as successful as anticipated".

The launch was in response to research showing families were opting for larger cereal pack sizes, but were conscious of waste if the cereal carton was not kept airtight once opened, said marketing director Andy Valentine. "Households typically have three or four boxes of cereal open at any one time, so we feel it's important that every time they go for the box of Honey Monster Puffs, the product is as fresh as the first time they opened it."

While resealable pouches are used by some muesli and granola brands such as Mornflake, Valentine said this was a first for a "traditional breakfast cereal".

The move was welcomed by international sustainability consultancy Sancroft. "Food waste is a major issue in the cereals sector and we encourage other producers to follow Halo's lead."

The new pack follows a brand relaunch that kicked off last October, when Sugar Puffs were renamed Honey Monster Puffs and reformulated with less sugar. And brand mascot Honey Monster returned to TV screens last month in what Halo claimed to be the biggest marketing campaign for the brand in a decade.