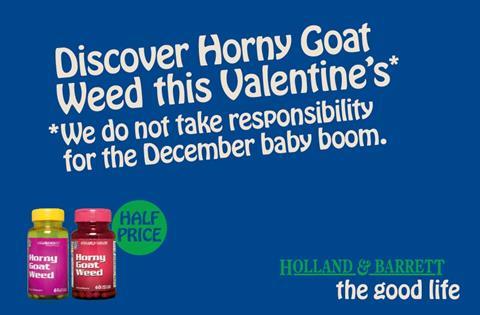 Holland & Barrett is pushing its Horny Goat Weed food supplements range in the run up to Valentine's Day with a multimedia campaign.
The £600,000 push kicked off Friday last week with a new TV advert for the "sexual wellbeing" range, supported by print and digital activity. Running for three weeks, the aim of the campaign was to highlight the health food retailer's "unique products that you simply can't find anywhere else", said chief marketing officer Lysa Hardy. "Horny Goat Weed is one of the more memorable products in our sexual wellbeing category, and we hope it will gain customers' attention to make them reconsider what Holland & Barrett is about," she said.
Holland & Barrett's 720 high street stores across the UK and Ireland are backing the campaign with PoS material to support the range. A second TV and print execution featuring weight loss tea Bootea is running in tandem with the Horny Goat Weed commercial.
The activity follows recent campaigns for other 'unusual products' from Holland & Barrett, including its anti-age gel made with snail slime.