The likes of Emma Raducanu and England's Lionesses are a big allure for major brands, helping them reach a growing and diverse audience
It was Emma Raducanu's third championship point that finally took her to US Open tennis glory in September 2021. Just a few months after finishing her A-levels, she fell to the ground, hands over her face, the first British woman to win a Grand Slam singles title in over 40 years.
Since then, big moments have come thick and fast for women's sport. In England, this hit a high last summer with the Lionesses taking the nation to its first major trophy since 1966 thanks to Chloe Kelly poking home the winning goal in extra time against Germany.
Moments like these capture hearts and draw crowds. Five years ago, the Women's Super League (WSL) wasn't even a fully professional football league. Today, since the Lionesses' victory, average attendances have tripled, including a record crowd of 47,367 for the North London derby between Arsenal and Tottenham at the Emirates Stadium in September.
It's a familiar pattern across women's sport. Raducanu's final drew a peak audience of 9.2 million Brits after Channel 4 landed a last-minute deal to air it on free-to-air TV. This year's inaugural Twenty20 cricket Women's Premier League in India drew crowds of up to 50,000, while England's women's rugby team is set to draw a world record crowd for their Six Nations game against France this month.
Such moments inevitably catch the eye of businesses keen to add their association, especially when, like now, crowds are bigger than ever. "Sponsorship is buying access to an engaged audience," says Conrad Wiacek, head of sport analysis and consulting at GlobalData. "So 80,000 people at Wembley for a women's final, brands take note of that. Fifty thousand people turning up for a WPL game in India, brands take note of that. We're at the start of a significant sea change in how women's sport is viewed commercially."
The momentum shows no sign of slowing, with this summer's FIFA Women's World Cup in Australia and New Zealand set to be the latest record-breaking event. FIFA announced in January it was relocating Australia's opening match to the 83,500-capacity Stadium Australia in Sydney due to high demand. And excitingly for brands involved, unlike last year when other major events like the men's World Cup or the Commonwealth Games competed for marketing spend, this year's women's tournament is set to get a much greater focus.
"Last year was so cluttered in terms of events for brands to activate so they had to pick and choose their priorities from a budget perspective," says Matt Peden, managing partner at Hatch, a sports marketing agency. "But this year, the Women's World Cup is probably the biggest sporting event in the calendar."
As the reigning European champions, that leaves England more attractive than ever for potential sponsors. "The success of the Lionesses has opened everything up from a brand perspective," Peden adds.
The FA now has 17 commercial partners for the women's game – up from six in 2017 – each of whom is increasingly active. "We had partners involved in 2017 who had the rights to the men's and women's game but weren't activating on the women's side," says Marzena Bogdanowicz, the FA's head of marketing and commercial for women's football. "Now every single one of our commercial partners is activating across men's and women's. That's the difference."
The only possible downside for this year's World Cups is the location in Australia and New Zealand. It means England's group games against Haiti, Denmark, and China all take place in the morning in the UK, and so for drinks sponsors like Budweiser, it's hardly ideal.
"Being in Australia and New Zealand is, from an English point of view, quite unfortunate, given the momentum is there," says Wiacek. "But conversely, you want to take the game to as wide an audience as you can."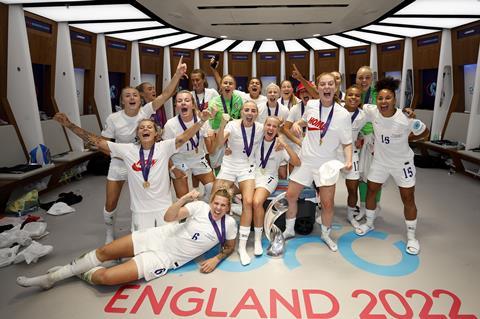 'Less tribal and aggressive'
Food and drink businesses are no strangers to sports sponsorship, with the likes of Budweiser, Carling, and Walkers all involved for many years. But as the support for women's sports continues to build, many brands are rethinking their strategy to cater for what is often a very different audience.
Anyone who has been to a women's football match in England will have felt this difference. Crowds are more mixed, more family-focused, and a sense of competitive camaraderie typically replaces the bitter hostilities and pseudo-aggressions so often found in the men's game.
"The success of the Lionesses has opened everything up from a brand perspective"

Matt Peden, managing partner at Hatch
Respondents to an Ipsos survey last year cited the "less tribal and aggressive" atmosphere and the inclusive nature of the women's game as factors driving their interest. Others argued women's football felt like "less of a boys' club".
"The difference between men's and women's sport fans is eye-opening," says Tammy Parlour, CEO and co-founder of the Women's Sport Trust.
"Women's sport attracts a unique audience. What is also interesting is the demographics of the audience. For example, audiences who only watch women's rugby are more diverse versus those who watch men's rugby."
This diversity is crucial to sponsors. Because whether it's due to the different demographics, a more open attitude, or something else entirely, it seems fans of women's sports are far more receptive to brands involved. In fact, they are nearly twice as likely to remember brands they've seen in women's sport compared with fans of men's sport, shows research by The Space Between, a specialist sports marketing agency.
"The value of the women's sport audience is in its quality, not just quantity," said its report, titled 'Understanding the Value of Women's Sports Fans'.
But it goes further than just liking brands that are involved. Four in five fans of women's sport actively want brands to get behind women's sport, the research found. "Brand involvement isn't just welcome, it is actively expected and desired," it said.
The reasons, it suggests, is that: "brand involvement is a legitimisation of the sport, a validation of its inherent value, but also a throwback to the origins of sponsorship as patronage. For many women's sports, the brand investment is that much more critical to their very existence." The question therefore facing sponsors is what to do with that? Do you treat women's sport as a unique entity and therefore employ a different strategy to the men's game? Or simply treat sport as, well, sport?
PepsiCo has been involved in women's sport for many years, first sponsoring US football star Mia Hamm in 1997 as its second-ever roster athlete after Michael Jordan. More recently, it launched a strategic partnership with Women in Football and sponsored 45 aspiring female coaches on the Football Association's 'Introduction to Coaching' course.
This experience has led it to one firm conclusion. "We're male and female agnostic," says Mark Kirkham, PepsiCo's chief marketing officer of international beverages. "The way we structure deals, the way we approach partnerships. We treat it as one game."
But for others it's more complex. Many brands are keen to get involved in women's sport in an attempt to market to women, says Lee Gibbons, managing director at sports marketing agency Sport Unlimited. But it remains unclear whether women's sport is the best way to do this. "There's an audience you're trying to get to know, which we don't really know yet. Obviously, we're seeing a spike [in crowds and viewers] where some of it will be female sports fans. But we're still trying to determine what's what."
Regardless, Gibbons is clear on what strategy he thinks brands should take. "It's a totally different audience that needs to be spoken to in a totally different way. And our feeling is that perhaps that isn't happening in sport at the moment."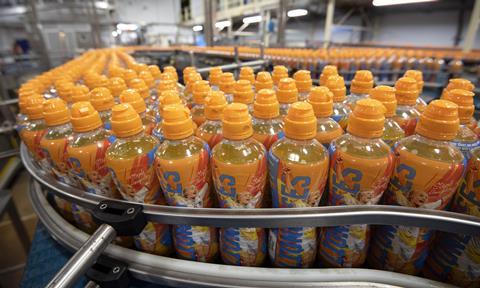 Unbundled
The buzzword on everyone's lips around sports sponsorship right now is 'unbundling'. Since UEFA took the decision in 2017 to sell the commercial rights to its women's games separately from the men's, it has taken off, with FIFA and World Rugby quickly following suit.
Last year, the number of unbundled sponsorship investment in women's sports more than doubled, according to Nielsen, giving sponsors new and varied opportunities to involve themselves in sport.
Even in cases like the FA, which hasn't officially unbundled its rights, women's only packages are available, with Xero recently signing such a deal with the FA. For now though at least, there is a major difference in price. Standard Chartered's deal with the Liverpool women's football team was estimated to cost £500k, according to Global Data, compared to the £65m Etihad spent on sponsoring Man City's men's team.
"The women's packages cost somewhere in the region of 10%-20% of the men's packages," says Neil Hopkins, global head of strategy at M&C Saatchi. "That's because it is still easier to make a business case for spending multiple millions on a package, where you can see the clearly defined broadcast exposure. That will change though. It's just a question of when."
It is not all about financials though. Women's sport holds unique "intangible benefits" that are enough to draw businesses in, Hopkins says. "Men's sport has always succeeded by putting up massive TV numbers. Whereas in the women's game, people have been keener to look at what the benefit is beyond just exposure."
As the Unlimited sports agency's report concluded: "Women's sport offers sponsors a new point of difference. A space with less clutter and a proposition better suited to landing a purpose-led message."