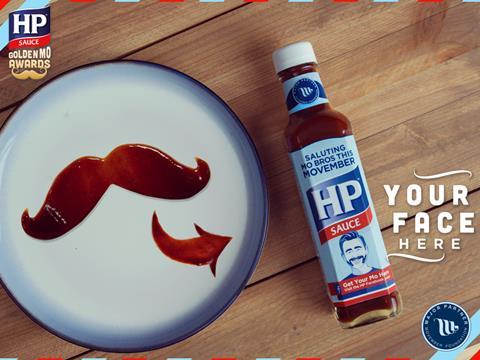 HP Sauce has launched a partnership with the Movember charity campaign for the fifth successive year.
The brand will be running an ongoing competition with weekly prizes, including personalised bottles of HP featuring the faces of winners, through its Facebook page.
Mo Bros - the moustache-growing participants in Movember - and their female allies, Mo Sisters, will be asked to submit photos in response to a series of tasks in order to enter. Each weekly winner will then be entered into a public vote for the overall 'Golden Mo' winner, who will get a golden HP Sauce bottle and a donation of £1,000 towards their Movember fund.
From mid-October, two million Movember-branded bottles of sauce will hit the shelves, featuring the campaign's moustache icon and a sketch of last year's champion Mo Grower, Dave Wardrope. The campaign will be supported by radio partner Bauer through its stations Absolute, Magic and Kiss FM.
"HP Sauce is proud to partner with Movember again this year and pleased to raise awareness about such a worthy cause through our channels," said HP Sauce assistant brand manager Umme Ali.
Movember has been held in the UK every November since 2007. It funds charities working in men's health issues including prostate cancer, testicular cancer and poor mental health.