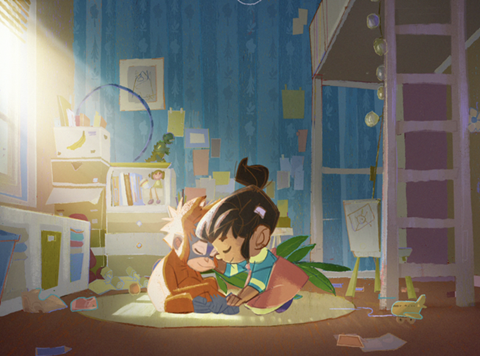 More than 600,000 people have signed a petition calling for a 'ban' on Iceland's planned Christmas ad to be overturned.

The petition urges Clearcast, the body that approves ads on behalf of the four major UK commercial broadcasters, to reverse a decision that the ad does not comply with rules on political advertising in the UK Code of Broadcast Advertising.

The petition was launched on Change.org on Friday and had gained 629,000 signatures by around midday today (12 November).

The ad is an animation created by Greenpeace and rebadged by Iceland. Called 'There's a Rang-Tan in my Bedroom', it features an orangutan who explains to a girl that his home has been destroyed by deforestation caused by palm oil production. It has been available to view on Greenpeace's social media channels since August.

Iceland revealed Clearcast's decision on Friday and posted the ad on Twitter, urging users to share it. The move sparked a Twitterstorm in which users mistakenly bombarded the Advertising Standards Authority with criticism over Clearcast's decision.
Thank you for the overwhelming support for Rang-tan!

We're proud to be sharing the story of rainforest destruction, and its devastating impact on the critically endangered orangutan.

"The future is not yet written…" Do you know what to do?https://t.co/P8H61t6lWu

— Iceland Foods ❄️ (@IcelandFoods) November 10, 2018

Celebrities including Bill Bailey, Julia Bradbury and James Corden have shared the video with millions of Twitter followers.

Corden wrote: 'This commercial was banned from TV for being too political. I think everyone should see it.'

Clearcast clarified its decision with a statement on Friday specifying the relevant BCAP rule as one against 'an advertisement which is inserted by or on behalf of a body whose objects are wholly or mainly of a political nature'.
The statement added: 'Clearcast's concerns do not extend to the content or message of the ad.'
Clearcast MD Chris Mundy wrote in a blog today: 'Because the ad is based on material made by Greenpeace and has been promoted on the Greenpeace website for some time, Greenpeace need to demonstrate they are not a political advertiser as defined by the Code before Clearcast can approve the ad.'

The petition was launched by Mark Topps, a 30-year-old registered care home manager from Chelmsford, Essex.

Topps told The Grocer: "I watched the ad with my daughter who's five, and she really liked it. Then I saw it was banned.

"I didn't see it as political at all and I just wanted to raise awareness for the next generation of deforestation and extinction, what's happening on the other side of the world that you don't really see. That's why I started it.

"Overall I'd like to see that advert on TV."