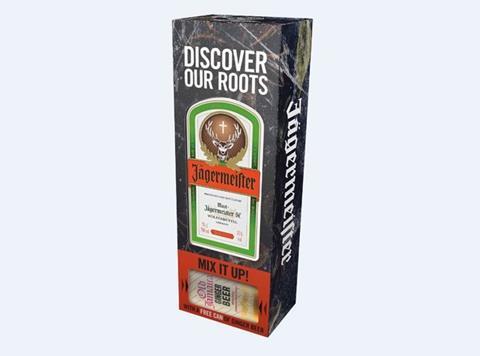 Jägermeister is partnering with Old Jamaica ginger beer to launch a limited-edition combination pack.
The brand is this month rolling out 200,000 packs comprising a 70cl bottle of Jäger and a 150ml can of Old Jamaica to retailers including the big four supermarkets. The packs support suggested serve 'Root56': Jäger over ice with ginger beer, lime and cucumber. The name is a spin on the US's historic highway Route 66 and refers to the 56 herbs, blossoms, roots and fruits, including ginger, used in the production of Jägermeister.
The packs will be supported by a marketing campaign that will runs through to August across outdoor, print, digital, print and social media. The brand's JägerHaus themed bar will be serving Root56 at several UK festivals this summer, including Kendal Calling, BoomTown and Bestival.
"As ginger beer is such a versatile drink, it makes a great mixer," said Nicole Goodwin, MD of Jägermeister owner Mast-Jäegermeister UK. "It partners Jägermeister particularly well for the Root56 serve due to the blend of ginger within its secret recipe.
"The limited edition packs provide a one-stop solution to encourage trial amongst consumers, and linking up with an established brand such as Old Jamaica to offer the perfect serve is a logical and exciting step for us."
While Jägermeister's popularity has been driven by the Jägerbomb – dropping a shot of the spirit into a glass of Red Bull – the brand has looked to reduce its reliance on the serve in recent years, instead recommending it is served as an iced shot.
"While the ice cold shot is still our number one serve, Root56 provides new, interesting drinking occasions and is a refreshing way to enjoy Jägermeister earlier in the evening."
Sales of Jägermeister – which last year launched its first brand extension, the 25% ABV vanilla and cinnamon flavoured Jägermeister Spice - grew by £1.5m in the past year to £26.2m [Nielsen].