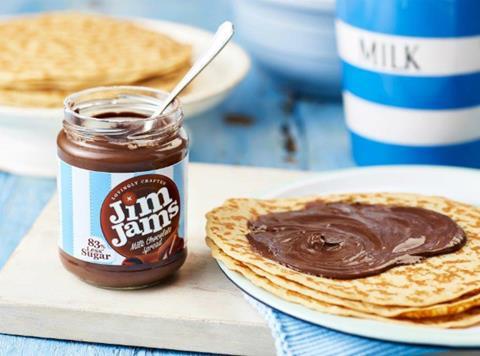 JimJams, the reduced sugar chocolate spread brand, is preparing to kick off a month-long series of events in Tesco stores to promote the Healthiest Pancake Day Ever.
The four-week push will kick off on Monday (13 February) and run until 12 March, with sampling activity in 200 branches accompanied by gondola ends and a £2 promotion for a 350g jar (rsp: £2.59).
"We want to offer families a 'better for you', guilt-free treat not only on Pancake Day but all year round," said Kevin Bath, who launched the brand with this wife Kellie in 2014 to offer '83% less sugar than other spreads in the market'.
"It's so important to be able to offer a healthier option that does not contain so much sugar," he added.
In July last year, JimJams' Hazelnut Chocolate and Milk Chocolate variants secured their first national listing, landing on shelf in 530 Tesco outlets. The brand is now also available from Morrisons, Holland & Barrett, Ocado, Whole Foods Market, Booths, Dobbies Garden Centre, and a selection of independent retailers.