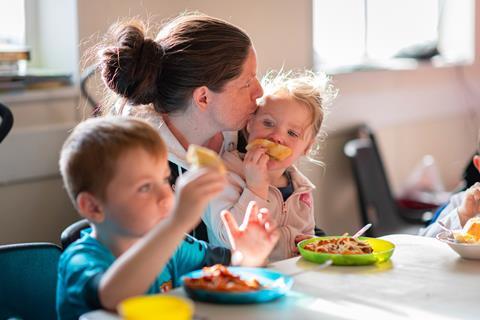 The John Lewis Partnership's highly anticipated Christmas adverts for Waitrose and John Lewis will this year focus on food poverty and helping those in need.
The retailer's 2020 festive campaign has been inspired by acts of kindness seen in the community since the Covid-19 outbreak.
It is launching a charity campaign next month alongside the ad to raise £5m to provide meals and support for at least 10,000 families.
JLP has partnered with food redistribution charity FareShare and family support organisation Home-Start for the fundraising initiative, and is encouraging its partners and customers to get involved by volunteering in the community. A penny contribution will be triggered each time MyWaitrose and MyJohnLewis loyalty cardholders shop in store, and customers will be encouraged to donate between £3 and £20 via text with PoS signage.
Payments to the cause will be matched by the retailer up to the value of £2m. This comes alongside a further fund of more than £1m to ensure all JLP branches can actively partner with FareShare, Home-Start and local charities for disadvantaged families.
It is also introducing a range of limited-edition campaign products.
JLP said the fundraiser had been motivated by "the plight of so many who have found it difficult to provide for their families or are struggling to cope".
"This year has created even greater inequality in society with a catastrophic effect on some of the most vulnerable, and we are determined to play our part in addressing this," said James Bailey, executive director of Waitrose.
"Everyone has a right to nourishment and a safe, warm home and we believe that as a partnership, we can be an enduring force for good, which lasts well beyond Christmas. We don't just want to talk about it, we want every customer, community and partner to show their kindness in supporting these causes."
John Lewis executive director Pippa Wicks added: "In a year like no other, the world has changed – so we will be delivering a Christmas campaign like no other. During 2020 we've seen some inspiring and heart-warming acts of kindness throughout our country and our communities. Now we want to build on this spirit to create a legacy that extends well beyond Christmas. Together we can all make a big difference to the families who need our help most."