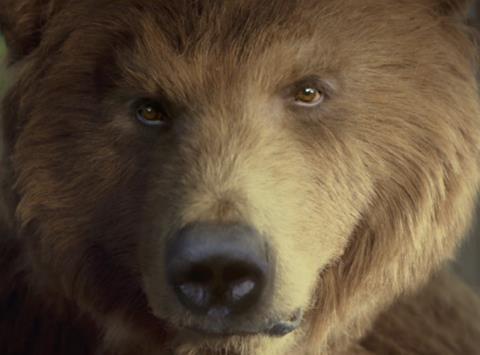 Children's snacking brand Bear is poised to launch its first mainstream TV campaign, having previously advertised only on kids' channels.
The £3m push will kick off tomorrow (4 January) across major terrestrial and satellite broadcasters, including ITV, Channel 4, Sky One and Comedy Central, marking Bear's debut on TV stations not specifically targeted at children.
An adult-focused ad – the brand's first aimed at parents – highlights the snacks' health credentials. Bringing the brand's on-pack ursine character into the real world via animatronics and CGI, it is part of a wider drive that will encompass VOD, digital, in-store and on-pack, with a strapline of 'Just fruit. Just veg. Absolutely nothing else.'
A second, animated commercial targeted at kids will appear on the likes of Nickelodeon, Disney and CiTV, centred on the latest range of collectable cards in Bear Yoyos, which take outer space as their theme.
Both ads will air for four weeks, with two additional bursts in April and September.
The new campaign celebrated "the naturalness and simplicity" of Bear products, said Georgia Spriggs, marketing director at owner Urban Fresh Foods. "With the brand celebrating eight years of outstanding growth, now is the time to step-change our marketing activity and talk directly to parents on a wider scale than we've ever been able to before."