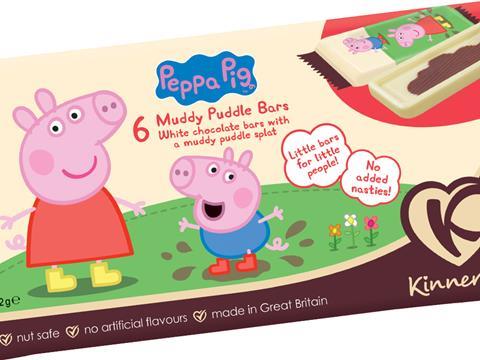 British confectioner Kinnerton is aiming to transform its image with a quality-focused rebrand.
The Norfolk-based business - best known for its licensed character advent calendars and chocolate novelties - has started rolling out new branding and packaging after consumers told it the existing look made them think the products were low-quality imports.
Kinnerton is looking to change perception of the brand and reinforce the provenance and quality of its chocolate, which was reformulated a year.
"There is constant pressure on manufacturers to make packaging cheaper and take costs out," said Kinnerton MD Richard Reilly. "We made the decision a couple of years ago to stop that - we were ruining what we were doing here.
"Why should I, as the MD of Kinnerton, put out something that is worse than Cadbury? It's simple, I can't - so we took the decision to use premium packaging on our goods, and put out a recipe that was consistent and in taste tests performed as well as the major branded chocolates."
The new look - which features a stylised K inside a heart, and images of chocolate - replaces the former bright red branding and child-like text.
"Our packaging had a very loud, bright look and the core message it gave people was that this was not a British product - that it was made in China, perhaps, which gave them a perception of lower quality," said Reilly, adding the business had conducted research among 500 parents ahead of the rebrand.
Kinnerton has also increased the quality of the packaging on its advent calendars this year, adding foil between the chocolate and packaging to prevent it affecting the flavour.
"Advent calendars are one of our key products but we didn't have the highest-quality product in the market," said Reilly. "Cadbury and Mars foil theirs, as do M&S, so people who buy our products will now have one at least as good as the major branded products."
Kinnerton, which has a turnover of £80m and manufacturers at three sites in the UK and one in Ireland, also produces own-label chocolate for many UK businesses and is approved by the major retailers.
"We have good quality credentials and have invested a lot in UK manufacturing in very high-quality factories, but you wouldn't have known that from the previous look of our brand," Reilly added. "If people look at our product and think it is a low-quality import, we have done a bad job."
Reilly admitted he did not expect the move to bring an instant sales lift. "It will take a while for the message to get out there, it may take two or three years for people to really appreciate we have made sure our products are something we can genuinely be proud of."
"We want to move them to a place where they can be just as happy buying one of ours over the major brands," he added. "We don't want Kinnerton to be perceived as the worst alternative - we want it to be seen as a genuine alternative."