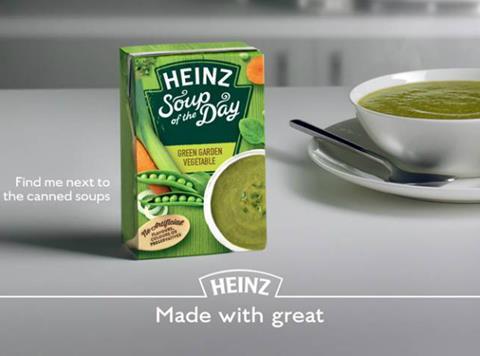 Kraft Heinz has kicked off the second instalment of a £8m investment on its soups portfolio – with a £4m campaign for the Heinz Soup of the Day lineup.
Targeted at under-35s, the push makes its TV debut today (16 October) to highlight the "fresher-tasting product delivery" of Soup of the Day, which launched in June as the first-ever Heinz wet ambient soup range in a carton.
The 20-second ad opens with a chopping board loaded with vegetables, which transform into chopped versions of themselves. A carton forms around them as they tumble into each other to create soup. The top of the carton then folds into place, revealing it to be in an office kitchen, where a woman is preparing her lunch. As she eats her soup to the envy of a colleague, the commercial closes with the strapline 'Made with Great'.
To be backed by VOD, digital and social activity, the new drive comes a month after Heinz unveiled a £4m spend on its canned soup range, underlining the role of the can in protecting its contents without the need for artificial preservatives or colours.
The latest ad formed "a key part of our overall strategy to re-inject growth to ambient soups via category reappraisal" said Steve Chantry, commercial director at Kraft Heinz. The aim was "to reinforce that the product is made from quality ingredients with no artificial colours or preservatives, wrapped up in a new carton format" he added. "Addressing consumer concerns around processed food in the ambient aisle, the ad highlights the fresh taste quality of Heinz Soup of the Day."