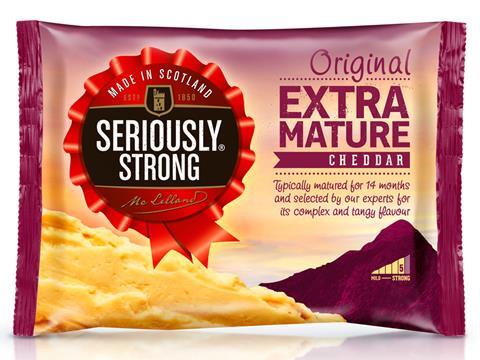 Lactalis McLelland is looking to "completely transform" the brand identity and double sales of its Seriously Strong Cheddar with a £5m campaign focused on its Scottish provenance.

Seriously is currently the third-biggest Cheddar brand, behind Cathedral City and Pilgrims Choice, with sales down 32.3% year on year to £50.9m [The Grocer Top Products Survey, Nielsen 52 w/e 11 October 2014].

Lactalis wants to double value sales over the next five years and become the UK's "best-loved cheese brand". To this end, it has given Seriously a packaging overhaul to better highlight its Scottish heritage and give shoppers clearer cues about its taste and texture. On top of that, it is running a major TV push, which went live on February 16 and will run for six weeks before returning in June.

Directed by Matthias Hoene, the TV ad also focuses on Seriously Strong's Scottish heritage and uses the voiceover of Scottish actor Dougray Scott. It showcases the expertise and attention to detail that goes into producing the Cheddar's 'characterful' flavour in its creamery in Stranraer.

"We have big growth ambitions over the next five years and this campaign has been designed to transform how we engage with consumers, while emphasising the Scottish values that deliver such an intense and characterful flavour," said Heloise Le Norcy-Trott, marketing director at Seriously Strong. "We are very excited about the roll-out of the campaign, as we forge ahead with our ambitions to double the brand value and secure the top spot in the UK cheese market."

The new-look cheese sleeve artwork, created by Coley Porter Bell, started rolling out at the start of the year. It had since resulted in a 10% increase in people buying the product in test research stores, Lactalis claimed.