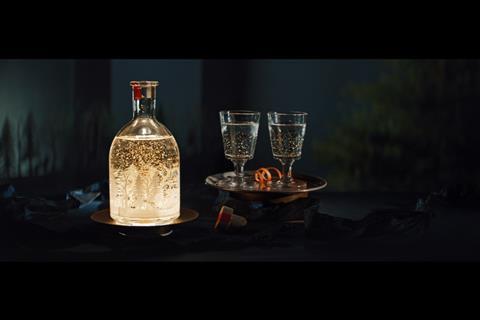 M&S will donate at least £2m to charitable causes as part of its 2020 Christmas marketing campaign.
The upmarket retailer has kicked off this year's festive campaign with a minute-long ad voiced by actress Olivia Colman that was shared on its social media channels and on TV today (6 November).
It is the first of nine adverts to be aired between now and the end of the year to showcase M&S's Christmas food offer. It highlights some of the retailer's standout Christmas food lines, with Colman describing its light globe gin liqueur, triple chocolate panettone, Our Best Ever smoked salmon and Collection mini beef and porcini yorkshires.
Colman is one of nine celebrities M&S has selected for the ads, alongside fellow actors and actresses Chiwetel Ejiofor, Eddie Redmayne, Gillian Anderson, Helen Mirren, Jeremy Irons, Julie Walters, Naomie Harris and Tom Hardy.
Each will end will the logos of each celebrity's three chosen charities, with M&S donating an equal portion of a £1m pot to each of them. Colman selected Back Up, which assists those impacted by spinal cord injuries, blood cancer charity The Anthony Nolan Trust and Tender, which is an arts charity that works with young people to prevent domestic abuse and sexual violence through creative projects.
This £1m worth of donations will also be shared with 10 additional charities chosen by 10 employees M&S has selected as its most active charity volunteers.
The retailer has a further £1m put aside for its 35 Sparks charities this Christmas. These organisations receive donations from Sparks loyalty cardholders throughout the year, with 1p donated for every online or in-store transaction shoppers make. The charities, which include Shelter and Together for Short Lives, will continue to receive these funds through the festive period on top of £1m.
The campaign also includes festive editions of the What's New at M&S tasting panel, designed to highlight its new launches through famous faces. The panel is made up of presenters Andi Peters, Amanda Holden, Paddy McGuinness, Emma Willis and Rochelle Humes, as well as Olympic medallist Tom Daley. The content is currently self-filmed due to coronavirus restrictions, while viewing figures for it have increased two-and-a-half times since England's first lockdown in March.
"2020 has been a difficult year for all of us but at a time when charities are seeing their incomes fall significantly, we want to make sure that the M&S Food Christmas campaign builds on our existing charity partnerships and gives much-needed support to those that need it most," said Sharry Cramond, marketing director at M&S Food.
"This is not the year for advertising fairytales – our customers want this Christmas to be as special as possible but have told us that they want to know about the M&S Food must-haves and how we are supporting others. All charities featured in the TV ad will receive their donations ahead of Christmas so they can use the money immediately where it's needed the most and we are indebted to the nine amazing actors who gave their time so willingly to support these great causes."
This comes as M&S fell into a pre-tax loss of £87.6m for the six months to 26 September – its first loss in its near century as a public company. Total group sales dropped to £4.1bn as clothing and general merchandise sales plunged by more than 40% due the coronavirus outbreak, despite food achieving 2.7% like-for-like growth.