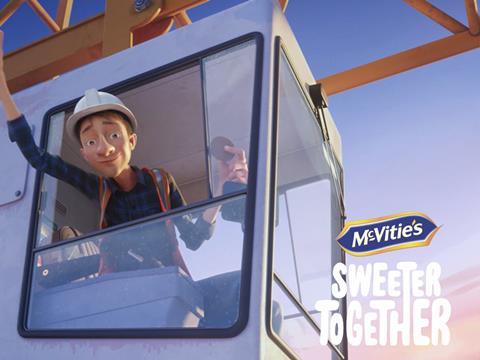 McVitie's has axed its Sweeet masterbrand campaign after four years, swapping cute animals in packs of biscuits for animated people yearning for company – as part of a £9.7m push.
Called Sweeter Together, the new drive will make its debut at 7.50am today (9 March) during ITV's Good Morning Britain, and will continue throughout the year. It explored "the importance of real human connections" said McVitie's. The Pladis brand wanted to highlight "the significant role the humble biscuit plays in everyday lives".
The first ad, a 60-second clip titled Crane, shows a tower crane operator who sees his workmates below enjoying tea break together. He waves but is not seen, and soon becomes convinced he has been forgotten about. But then he is surprised by a cup of tea and McVitie's biscuits on a steel beam his crane is lifting. He looks down to see his colleagues waving and smiling, brightening his mood.
The ad ends with the message: "Sometimes the little things are actually the really big things".
A second commercial, Brows, will air later this year, telling the tale of a woman feeling isolated during her first day in a new office job.
The new push replaces McVitie's Sweeet masterbrand activity, which kicked off in early 2014 backed by a £12m investment with the aim of evoking "the same feeling and emotional response to that of eating a simple McVitie's biscuit". The adverts showed kittens, puppies, owls and tarsiers, the planet's smallest primates, clambering out of packs of biscuits.
Sweeter Together will also feature social media activity and an in-store promotion giving shoppers the opportunity to win prizes including family holidays and days out.
People were "drifting further away from those real human connections that can mean the most" said Sarah Heynen, vice president of marketing at Pladis UK & Ireland. "That's why we're so excited about our new Sweeter Together campaign, because it has a very real message about the importance of togetherness."