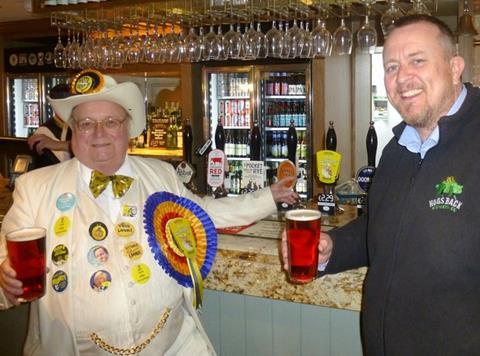 Over the past thirty years it has offered to abolish Tuesdays and introduce a 99p coin, but now the Official Monster Raving Loony Party has something solid – or rather liquid – to offer voters, with the launch of its own beer.
Hog In The Limelight, a 3.7% ABV bitter, is a temporary rebrand of Hogs Back Brewery's Hogs Back Bitter for the duration of the election campaign. The name is a nod to Loonies' leader Alan "Howling Laud" Hope's self-styling as the Boss Hog character from TV show Dukes of Hazzard.
After the death of Official Monster Raving Loony Party (OMRLP) founder Screaming Lord Sutch in 1999, Hope was elected joint leader alongside his cat, Catmando. After Catmando was killed in a traffic accident in 2002, Hope became sole leader.
"We were flattered to be approached by the OMRLP to join them in their 'CoALEition'," said Rupert Thompson, owner of Hogs Back, which sells its flagship TEA beer through retailers including Tesco, Sainsbury's and Waitrose. "Linking a Hog character to the beer, and the party's English eccentric character, made it an attractive proposition for Hogs Back Brewery.
"It's a shame no OMRLP candidate is likely to be celebrating General Election victory with a pint of Hog in the Limelight but, fortunately, a great pint of ale cuts across the political divide, so many supporters of all parties will certainly enjoy it between now and May."