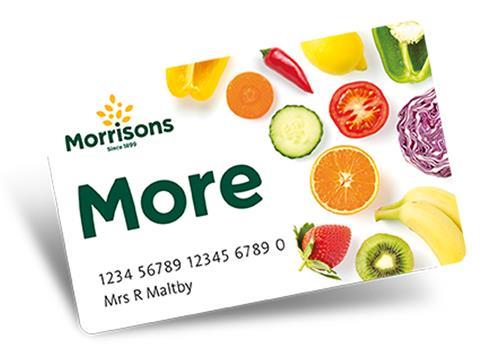 Morrisons is relaunching its loyalty scheme next week and will be dishing out rewards in the form of Morrisons 'Fivers'.

Morrisons More will replace the existing Match & More scheme. As with the previous scheme, shoppers will receive five Morrisons More points for every pound spent in store and will receive a voucher worth £5 when they hit 5,000 points. These vouchers are being rebranded as the Morrisons Fiver.

Shoppers will also now be able to earn points in the café for the first time, as well as its florists, garden centres and pharmacies, with the opportunity to collect extra points on promotions in-store and online. Cardholders will also receive 10 points for every litre of fuel, which Morrisons says is more than comparable to loyalty cards.

The new cards are now being sent out to existing members of the scheme. Points on existing cards would be automatically transferred.

"We have listened to what our customers tell us they want from a Morrisons loyalty scheme," said group marketing and customer director Andy Atkinson. "They enjoy earning points every time they shop with us and being rewarded with £5 vouchers - their Morrisons Fivers. But they also said they want to earn points across our stores, including our customer cafés."

Morrisons submitted a trademark request for the term Morrisons Fivers earlier this year with the Intellectual Property Office. The application covers a number of categories relating to magnetic data carriers, gift vouchers and the issuing of tokens of value

Former CEO Dalton Philips launched Match & More in October 2014, combining a traditional loyalty scheme with price-matching. It was the first and only scheme to compare prices against Aldi and Lidl as well as its traditional supermarket rivals. However current CEO David Potts ditched the price-matching element a year later, claiming customers found it confusing.