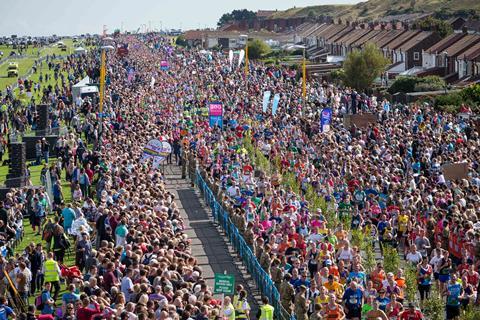 Morrisons is to become the new sponsor of the Great Run series of mass participation running events across the UK.
The sponsorship will initially run for four years, starting tomorrow with the Great Winter Run and International Cross Country in Edinburgh.
It will cover 12 events in eight cities involving more than 220,000 runners. The retailer said it was hoping to grow that number further by encouraging some of its 11 million customers and 120,000 employees to take part in events that range from 5k runs to half marathons.
Morrisons group marketing and customer director Nick Collard said part of the agreement with the Great Run organisers Nova International was creating opportunities for its staff and customers to take part in the event, some of which like the Great North Run are often oversubscribed and difficult to secure a place in.
Collard would not disclose how much Morrisons has paid for the sponsorship, but said it was a good fit "for a nationwide value-led supermarket with a focus on fresh food, supporting the most accessible sport available."
He said that Morrisons was looking at a number of marketing opportunities including media advertising, in-store promotions, and experiential marketing and that it would be finalising these plans over the next few weeks.
A keen runner who has taken part in two Great North Runs and two London Marathons said he was looking to run in as many of the events as possible and was also encouraging Morrisons CEO Dalton Philips, another runner, to get involved.
"Over the last 34 years, the Great North Run has become a national institution and now with Great Runs across Britain, we believe it should be supported by a truly British sponsor. We have stores in more than 500 communities so we can play a big part in getting more people running with all the benefits that brings," said Philips.
The Great North Run was founded in 1981 by former Olympic medallist Brendan Foster.
"We are delighted to welcome Morrisons as the title sponsor of the Great Run series and we are excited about the association between one of Britain's biggest retailers and Britain's biggest mass participation running series," said Foster. "Our ambition is to have a million people taking part in our programme and Morrisons are ideal partners to help us achieve this."
The retailer's current charity partner, Sue Ryder, will also have the opportunity to recruit more runners to raise even more funds to support their work.