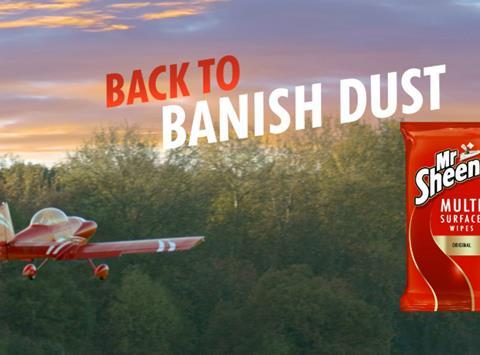 Reckitt Benckiser's Mr Sheen returns to TV today after almost 10 years.
The £800,000 Back to Banish Dust push kicks off today (4 December), featuring the first live-action version of the household cleaning brand's eponymous pilot character. Set to make its debut this evening during peak-time, it begins with a glimpse of his bushy, grey moustache as he wipes off dust from his plane, revealing a Mr Sheen logo. He then takes off in to a multicoloured sky.
The brand last appeared on the small screen in early 2008, when the Mr Sheen character was animated. The new ad features a redesigned lineup of products, given a simplified and modernised look highlighting the 'Dust Trap' technology and better communicating the fragrances.
Supported by digital and in-store, the push had "the overall aim of reappraising the brand for the current day" said Holly McCarthy, RB UK marketing manager.
"Thanks to clearer on-pack communication, we firmly believe consumers will understand the key benefits of the range and include the products in their everyday cleaning routine," she added.