This report is part of our three-part influencer series where we're diving beyond the polished surface of influencer marketing to look at some weird and wonderful new ways brands can connect with consumers. Other reports include the world of "positive goosebumps" within ASMR and the too good to be true CGI influencer community.
Four cookies, three doughnuts, two cheesy flatbreads, two yum yums, five different fruity pastries, two iced buns, two muffins, one soft pretzel and half an hour. That's all YouTube sensation Beard Meats Food (real name Adam Moran) needs to make a hit video that racks up hundreds of thousands of views. That's because Moran has made a living out of a very niche corner of the internet, made up of people who love nothing more than to watch other people eat.
The viewers, who "highly requested" that Moran make a video of himself eating over 10,000 calories worth of Lidl bakery products in one sitting, call this type of content mukbang.
Hailing from Korea, where it translates to 'eating broadcast', it's the art of filming yourself eating giant portions of food and chatting to the camera about what you're eating, how it tastes and, often, just how your day is going.
But what's behind the obsession of watching others eat? What effect does it have on people who watch it? And is there a hidden marketing opportunity for food and drink brands within it?
"The success of mukbang in Korea is rooted in Korea's community culture", mukbang star Termin tells micro-documentary publisher Great Big Story.
"Traditionally, eating together is extremely important for Korean people. But as time has passed Korean society has become increasingly individualistic. Consequently, there are more people who live alone and eat alone. But that traditional value didn't go away. So people turn to mukbang and they feel a sense of belonging."
But watching people eat has got appeal beyond Korea. Most of the big personalities who film themselves tucking in on YouTube are from the US, and a few are from the UK.
"I think it's relatable." says Moran, who has over 630k YouTube subscribers, 40% of whom hail from the UK.
"If there's one common experience we share as humans its love of food. A lot of my best performing videos are relatable items, like trying to eat 100 chicken wings, or 50 hamburgers from McDonalds: things that people immediately understand."
Paid partnerships in Mukbang videos
Branded food is top of the menu. There is an abundance of videos which feature enormous Nando's orders, stacks of Dominos Pizza and the entire Gregg's menu with views into the millions.
"YouTube influencers will have a niche subject area and within this, will tend to share more affordable products," says Bottle senior editor Sophie Moore. "This value proposition lends itself well to food and beverage."
And it's relatively low-cost for brands to get involved. To have your products eaten on camera by someone like Moran would set you back about £1,000. For the food and drink brands featured, what's not to like? Millions of viewers are watching your products being devoured by much-loved internet personalities who deliver approving "mmm" sound effects and lots of close-up shots of oozing cheese and pouring chocolate.
Just last week, W Hotels spotted the opportunity and launched an in-room mukbang experience. The chain used Queer Eye star Antoni Porowski to announce the launch of the $285 Sip & Slurp room service package on offer at its Washington DC location. The package comes complete with a lapel mic and phone stand that guests can use to film themselves chomping down on the nine-dish-strong menu, which includes two pizzas, a burger topped with raclette, a tower of carrot cake and surf & turf – among several other dishes.
Considering the offer doesn't include the price of the $200 room or the tax and service charges (putting the actual cost of the package closer to $387 according to The Verge) the number of people who will take them up on the offer of a mukbang special is probably quite small, still, it was a very effective way to advertise its gourmet room service offer and the video has already racked up 40k views.
"Food and drink brands are behind other sectors in terms of using influencers, so there are definitely opportunities for them to explore here." says The Digital Fairy digital marketing manager Sonika Phakey.
"Partnering with Mukbang stars could be a clever activation for those who want to appeal to a younger Gen Z audience or to tap into the ASMR trend especially when packaging plays a key role in their product experience."
The downside of marketing with Mukbang
So, what's the catch? Well, there are a lot of them.
"Binge eating is an epidemic in the UK." says Uxshely Chotai, founder of The Food Psychology Clinic.
"The majority of the people who call into my clinic are binge eaters. It's a feast or famine mindset, a lot of people will go weeks without eating anything before a binge and they get normalisation and validation from watching someone do the same.
"When a person restricts themselves, it leads to a fixation or fascination with food. Someone restricting can derive pleasure from watching someone else eat. A lot of people I work with who have eating disorders get pleasure from looking up recipes, watching cooking shows, preparing food, serving it to other people and watching them eat it."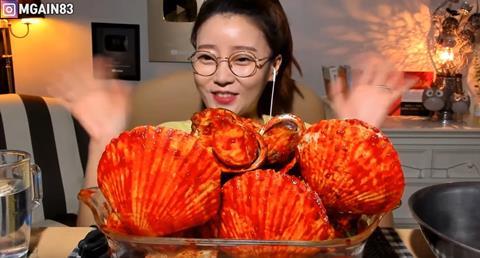 Although it's problematic, the psychology behind watching these videos means they will often have the exact effect that brands are after.
"We eat with our eyes," says Chotai.
"Seeing pizzas plastered across the screen and someone bingeing on them can trigger a response in the person watching. It tells them this bingeing behaviour is completely normal and they should go and order a few. You can see why the brands are doing it but that's not something food companies should be encouraging or condoning."
If that wasn't enough of a problem, the moaning and groaning from Mukbang stars will raise some eyebrows.
"There can be sexual undertones in Mukbang videos, which often feature women and children," says Phakey.
"This is something brands must be very aware of when exploring this trend – it's not enough to simply vet the vlogger, but you must also interrogate the audience to ensure the channel and content is brand safe."
Microtrends
Even if the trend is too problematic for many household food and drink brands to put their money behind, it still has a role to play in seeding new food trends. Here are three smaller food trends we can associate with the Mukbang movement:
Seafood boils
Spice
Ultra-luxury
Seafood boils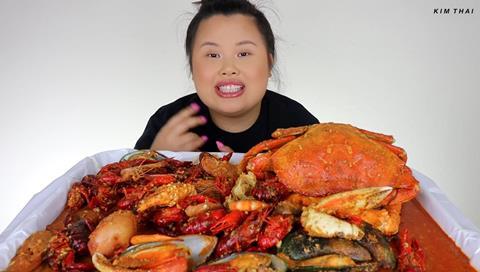 A Louisiana-Cajun speciality, the seafood boil is exactly what it sounds like - boiled seafood. The dish is usually comprised of crab legs, lobster tails, crayfish and prawns all cooked in spicy Cajun sauce with corn and cured pork sausages and then dipped in melted butter. It's a particular favourite among mukbangers as there's not much more impressive to feature as a YouTube thumbnail picture than an enormous lobster. The ASMR-friendly sucking and slurping that comes with eating a dish as messy as this makes it an especially appealling choice.
It's huge in the US but it's not completely unheard of in the UK. In London an aptly named cook, Crayfish Bob hosts all-you-can-eat Crayfish boils every month where guests dive in to troughs of American signal crayfish cooked in the Cajun style.
Spicy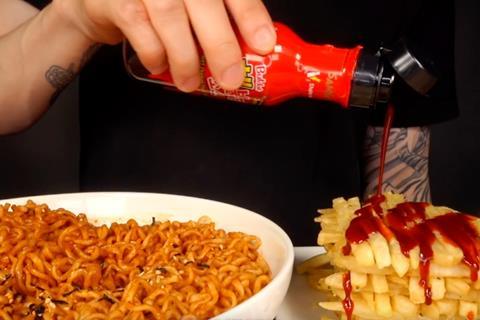 What's more appealling than watching someone eat? Watching someone writhe and scream in pain while they're eating. The "will they finish all of that?" element of these videos (which keeps people hooked until the end) is heightened when it's paired with super-spicy foods. Names like nuclear, atomic, fire and cannonball are sprinkled throughout the titles of all types of food videos but ramen noodles are a top hit.
Of said noodles, Samyang Spicy Hot (2x Spicy) are the most popular by far and YouTuber Zach Choi racked up 9.1m views on his video taking on the challenge of eating them. Despite being the most popular ramen on YouTube, Brits would struggle to get hold of them. Despite the popularity, the noodles are not listed by any major UK retailers and are only available on Amazon and specialist retailers like OrientalMart.
Ultra-luxury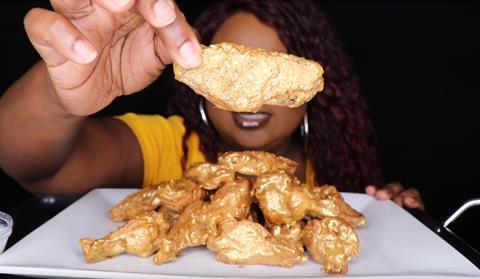 24 karat gold chicken wings, huge slabs of Japanese Wagyu steak and $1,000 gourmet restaurant bills are all on the menu for Mukbangers. They're created to allow viewers to live viacriously through them and feel like they're experiencing these bank-breaking delecacies from the debt-free safety of their phone screen. A video by competitive eater Furious Pete eating a £1,273 Glam Burger in the (now closed) Honky Tonk restaurant in London has clocked up 9.8m views.
Gold leaf is a particular favourite on YouTube and you'll be able to find it plastered across everything from steak to burgers to sausages to the aforementioned chicken wings, how elegant.

Ellis looks after the day-to-day running of thegrocer.co.uk and The Grocer's social media channels, alongside creating and co-ordinating digital content.
Ellis joined The Grocer and moved south in 2015 after working as a local news reporter in her home town of Glasgow. Ellis doesn't work on a particular patch, and you'll find her writing about a vast range of topics across the universe of food and drink, but she specialises in own-label, culinary trends and internet food culture.
Follow Ellis on Twitter: @ellishawthorne
View full Profile