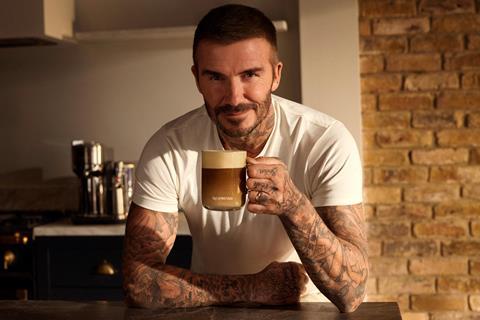 Former England football captain David Beckham has penned a deal to promote the Nespresso brand.
Despite professing his love of a 'bean to cup' coffee machine in his recent Netflix documentary series, Beckham has elected to partner with the Nestlé-owned brand to promote its pods.
The partnership would consist of Beckham sharing "an exclusive view of the genuine coffee moments he enjoys" and highlight how "even as a global icon, he still needs a moment of mindfulness", Nespresso said.
In a video announcing the partnership, Beckham was shown using a Melozio Nespresso pod and the brand's Vertuo Creatista machine.
"Literally the moment I first open my eyes, the first thing I think about is coffee," he said.
Beckham joins American actor George Clooney as a brand partner for Nespresso, which said it was "delighted to be working with" the former Manchester United, Real Madrid and LA Galaxy star.
"David Beckham has always had an unforgettable style, taste and passion for creating elevated experiences which are many of the qualities of Nespresso," said Nespresso UK & Ireland CEO Anna Lundstrom. "We are delighted to be working with David to showcase his genuine love for the nation's favourite drink and his journey of coffee discovery."
Beckham himself added: "I've always loved Nespresso coffee. Whether I am having a quiet moment at home with my family or preparing myself for a business meeting, the variety of blends is great, it's so simple to make and every cup tastes incredible."
The duration and financial details of the partnership were not disclosed by Nespresso.