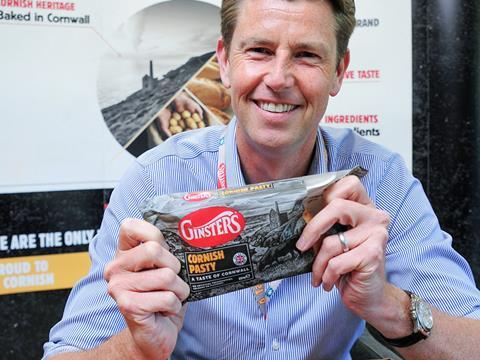 Ginsters is to launch a fresh design across its portfolio in an effort to reignite shoppers' interest in the chilled savoury pastry category.
Following almost 18 months of planning, new-look pasties, slices, sausage rolls and other savoury snacks will land on shelf from 27 June, featuring a window and wood carving-style artwork that "plays to the brand's unique Cornish heritage".
The logo has reverted to the brand's 1969 original reading just 'Ginsters', meaning the familiar 'of Cornwall' ­suffix and Cornish flag no longer feature. However, 'A Taste of Cornwall' claim has been added to underline the brand's commitment to its home county.
The pack refresh was in response "to the poor performance of chilled savoury pastry as a category" said Ginsters MD Kieran Hemsworth. "Over the past five years, it's barely been growing its volume. A key issue is penetration: it's losing household, it's getting older, it's not attracting younger consumers."
A "heavyweight" push from July would underline "the unique care that Ginsters takes and its continued commitment to sourcing British meat" said the brand, which last year saw value sales rise just 0.1% to £103.6m [Nielsen 52 w/e 30 December 2017].