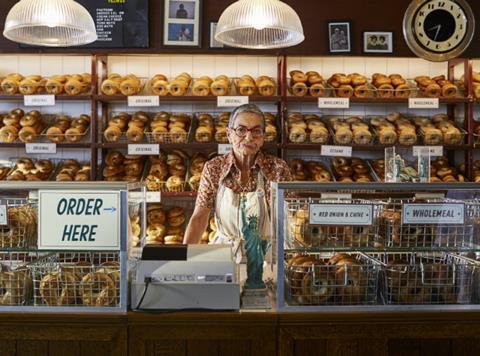 New York Bakery Co is preparing to kick off a £4m campaign – the largest media investment in the brand's history.
Making its debut on 18 September, the multichannel push centres on 30-second TV ad 'The Woman Who Runs New York', which follows last year's 'A Taste of New York' starring body coach Joe Wicks.
The latest commercial had been created to "make New York and bagels synonymous amongst UK consumers" said the brand. It focuses on fictional bagel-store owner Edna, an acerbic Big Apple native whose wares "keep the streets moving along".
The brand wanted a creative that put "bagels at the heart of the city" said its marketing director, Tim Barkey. "We found the perfect person to do just that. Edna is one of a kind, just like our bagels. By shining a light on her, we highlight just how much New York relies on bagels."
The drive comes as New York Bakery Co – founded in the 1990s – is rolling out its new Everything Bagel five-pack made with sesame, poppy, onion and garlic (rsp: £1.60). It came in revamped packaging with a "strong new logo that maintains a classic US feel, but in a fresher, cleaner style" said Barkey. "We've listened to consumers, added further cues to Lady Liberty."