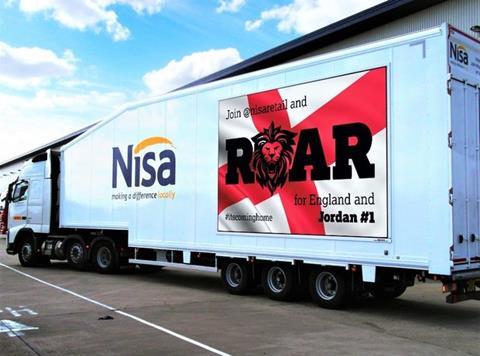 Nisa is driving support for England's World Cup bid through a special rebranding of selected vehicles.

The Scunthorpe-based delivered wholesaler has rebranded 12 of its vehicle sides in tribute to England ahead of tonight's semi-final against Croatia.

The new branding displays a large image of a lion with the tagline 'Join Nisa Retail and roar for England' and includes the hashtag #cominghome.

"The England team's performance in this World Cup has united the country," said Nisa retail sales director Steve Leach.
"We felt we should honour them and hopefully, through the power of social media, our messages of support might reach the team and give them an extra boost."

This follows Nisa's special rebranding campaign back in September where it named some of its vehicles after members of the local community, including a Nisa retailer who passed away from cancer, an 11-year-old charity fundraiser and a lorry enthusiast.