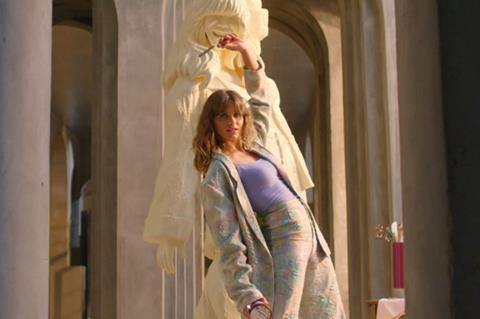 Summer's here, and Häagen-Dazs is celebrating with an ice cream sculpture.
Its new ad sees a young woman dance-sculpting a giant self-portrait, with a selection of ice creams on her palette (though she seems to only use vanilla). A sitar-struck cover of the Chemical Brothers' Galvanize, the local architecture and – most obviously – the blazing sun suggests construction is taking place in a hot country. There are no obvious melting issues, however.
Our gal captures herself (and her rather funky trouser suit) quite nicely, settling back to enjoy the nibble she'd managed to resist during construction.
It's quite an impressive piece – the self-expression makes sense – but calling it 'The Masterpiece of Masterpieces' is a bit strong, even if it does tie in with a later 'The ice cream of ice creams' message. Then we get more text – 'Crafted for creaminess'. And 'Don't hold back' (from the song). It's bit much.
And the sculpture should melt! Right?