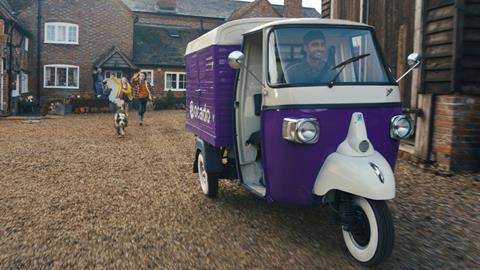 Ocado has increased the value of its brand by 72% in the last 12 months, more than any other grocer, according to Kantar analysis.
The online grocer's brand is now valued at $5,681m, following a major brand overhaul in January which saw its website and logo change from green to 'grape', and an advertising campaign which has been running since May.
It is the fastest growing of all British brands in terms of brand value, along with Deliveroo which boosted its brand value by 58% to $3,031m, after securing multiple delivery deals with grocery chains and a TV advertising campaign.
"Ocado is known to many as a disruptor, but the findings suggest that the simplicity and intuitive nature of its online platform, as well as a 2021 brand refresh which built on its already unique positioning within the sector, are what has helped increase its brand value," Dom Boyd, senior director, offer and qualitative, Kantar Insights UK told The Grocer.
"The retailer is also an example of a brand which has begun to commit to more long-term development. As its initial wave of success inevitably tapers, it is focused on how to maintain forward momentum," Boyd added.
Other delivery firms including Just Eat, Asos and Royal Mail were among those growing the quickest in the last year, according to Kantar.
Most of the major supermarkets also boosted their brand value – a metric based on the opinions of over 150,000 UK consumers combined with analysis of businesses' financial performances. Tesco ranked highest among them in Kantar's BrandZ Most Valuable UK Brands 2021 ranking – fourth among all British brands, after Vodafone, HSBC and Shell – having added 33% to its brand value. Sainsbury's had grown the most of the big four, adding 42% to its brand value. Only Asda lost value, down by 3%.
Co-op and Waitrose also featured among the top 75 British brands in terms of value, valued at $1,862m and $1,241m respectively.
"In terms of the bricks and mortar supermarkets, customer experience is the most important factor in building brand perception and value. Successful communications and marketing largely focused on keeping customers safe in store as well as recognising the heightened significance of a weekly shop as we were all spending more time at home," Boyd said.
Several food and drink brands also ranked highly in the Kantar brand value index, Lipton fourth among all British brands, Cadbury 16th and KitKat 32nd.
"Social restrictions last year gave a boost to a broad range of brands which prioritise convenience, digital services and at-home comfort, from loungewear providers to online banks and delivery experts. The next test will be for these high-achieving brands to sustain their performance as people socialise more again and return to work," Boyd said.
"They have got to present a clear and compelling offer which reflects the new and different ways people are living their lives," he added.